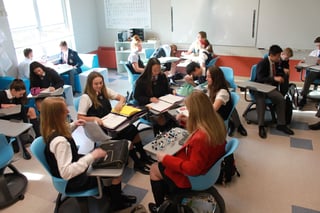 Academic excellence is of the utmost importance to everyone at King's-Edgehill School. We understand that some of our programmes, such as the rigorous International Baccalaureate programme, can be intense and require a lot of work and focus.
It is for this reason that KES makes sure all students have access to the necessary tools and resources for them to do their best and reach their full academic potential. In keeping with this tradition, KES offers a daily tutorial period for Senior Students as well as extra help, for students who need it.
Open Tutorial Periods
Open Tutorial occurs after last period each day for all Senior Students. At this time all teachers are available in their classrooms where students may go for remedial or supplementary assistance.
The tutorial periods allow students to have access to any teacher. Students are reminded throughout the academic year to take advantage of the tutorial periods to engage with their teachers and ask questions about any area in which they are struggling.
Teachers may also mandate the presence of students whose work demonstrates the need for assistance and improvement.
Extra Help
For some Senior Students, the Open Tutorial Periods do not lend enough time. These students are encouraged either to sign out for "extra help" or to spend the tutorial period in the Library or their rooms, quietly working on homework assignments, studying for upcoming tests or undertaking other academic tasks.
In the Junior School, the low student/teacher ratio allows for meaningful support in the classroom. One-on-one extra-help appointments also can be arranged with individual Junior School teachers during the lunch period or after school during club time.
For Junior Students, extra help in some key subjects is also available from older students who act as senior tutors. For those requiring help beyond the usual tutorial assistance, KES also offers a learning differences support programme.
All teachers provide learning support and accommodation for individual needs in all classrooms. Providing this support encourages our students to become accountable, responsible, knowledgeable advocates for their personal success.
For more information on what it's like to be a student at King's-Edgehill School, download our Day Student and Boarding Student Photojournals.