In an exercise that has become a tradition, three students from Asia currently attending our school have been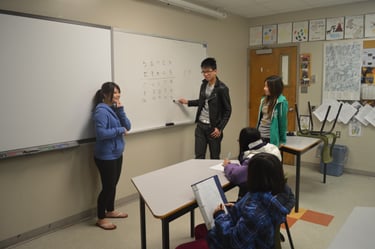 offering an after-school Chinese Language and Culture class to school age children in the community who were adopted from China. The class meets throughout the school year, where Tina Fang (Grade 12), Amanda Chen (Grade 12), and Elaine Cheng (Grade 11) share songs, customs and common phrases with Chinese children and their Canadian parents.
For the past five years, Chinese students have been offering the class free of charge, teaching simple conversational exchanges, words for common items, and popular folk songs and traditions. The class is a fun, lively exchange for Windsor families, as well as for Tina, Amanda and Elaine who are enrolled in the school's extensive English as a Second Language (ESL) Program.
"Our classes are not just teaching the kids words," says Tina. "We focus more on having fun and seeing the children stay attracted and excited about learning Chinese language and traditions."
The class – conceived by KES teacher Glenn Nightingale in response to a Windsor parent's email in 2009 – has persisted, with graduating Grade 12 students passing leadership along to upcoming grades. KES students design, advertise and lead the classes and form strong friendships with their students.
"It is a joy to get to know these amazing teenagers from Asia," says Sherry Pippert, a Windsor parent who has been with the program since its inception. "I love that my daughters have the opportunity to get to know role models from their birth country and get to have fun learning about their birth culture every week. What a great resource to have in Windsor!"
Community involvement is one of the four pillars of education at King's-Edgehill School, and with a student body originating from more than 20 different countries, the school encourages initiatives that offer the opportunity to share language and culture on and off the campus. The Chinese Language and Culture course also enhances the our ESL Program, which offers international students regular ESL classes as a part of their daily class schedule and extensive help with important test opportunities such as TOEFL preparation.
Founded in 1788, King's-Edgehill School provides education from Grade 6 – 12 for boarding and day students. KES focuses on the whole student, emphasizing athletics, fine arts, student leadership and volunteering opportunities alongside academics, which includes the International Baccalaureate stream.