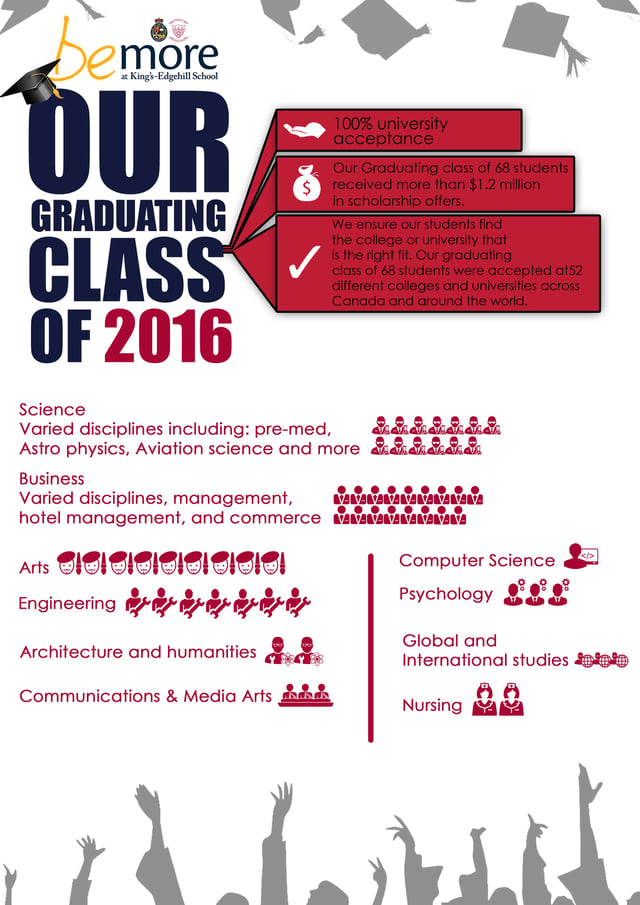 It wasn't so long ago that the top career choices that came to mind when a student was asked, "What do you want to do when you graduate?" were doctor, journalist, lawyer or teacher. Millennial parents grew up mainly pursuing medicine, law, journalism and science, but modern fields have broadened the academic horizon for many graduates heading into university or college. In addition to traditional fields of study, students can now pursue more niche fields, such as biomedical engineering, social media marketing, and nanotechnology (just to name a few).
Many popular degrees and career paths did not exist a generation ago and there was a time in the not so distant past when computer science, communication and media degrees were not as highly sought after as they are now. As science, technology and the way we communicate continue to change and evolve, so do the post-secondary programs and career options available to modern graduates.
IB Diploma graduates are challenged to learn and explore education using a multidisciplinary approach, so it may not be surprising to learn that many graduates seek out multidisciplinary university degree programs, including the likes of nanotechnology and marketing.
The key for any of our graduates choosing a career is to research and keep themselves well informed about what people of their interested field of work are doing and make sure the work interests them. A new degree sometimes comes with uncertainty and less job security post-graduation, but sometimes this uncertainty will lead to unique opportunities only afforded to students who have chosen to study a particular niche field. Luckily, most IB Diploma graduates learned from theory of knowledge (TOK) that it is essential to take risks to build knowledge.
The KES graduating class of 2016 has students pursuing nanotechnology, nautical science, marine technology, actuarial, astrophysics, media, international development, as well as many pursuing business, psychology and engineering.
KES prides itself on preparing graduates for choosing a career path well before their graduating year. In addition to access to academic advisors, our students also participate in university prep groups. Prep groups divide students into groups of approximately 12 students so they can discuss and assist one another on various topics as it relates to post-secondary school including: types of degree programmes, the application process, scholarships, career possibilities, time management, etc. Participation in a prep group keeps students accountable and maximizes their chances of picking a successful post-secondary program.
For more information on counseling and services available to assist KES students in selecting the career right for them, click here.