Grade 10 student Evan Xie becomes one of just 160 people in the world to earn this designation.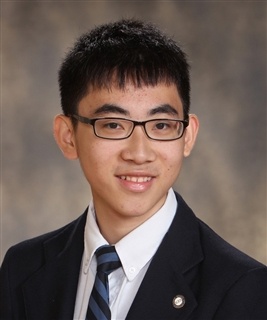 We are proud to announce that one of our young students has become Canada's first International Master of Memory.
To be recognized as an International Grand Master of Memory, a person must accomplish the following three feats at the annual competition:
Memorize a minimum of 1000 digits in random sequence in one hour.

Memorize a minimum of 12 decks of randomly shuffled cards in one hour.

Memorize one deck of cards in less than 2 minutes.
10th Grader Evan Xie went well beyond the minimum as he successfully memorized 1180 digits in one hour. Xie memorized 12 decks of cards in one hour and memorized a single deck of poker cards in 32.275 seconds, which is not far from the world record. Xie received his award from the Prince and Princess of Poland at the 24th annual World Memory Championship held this December in Chengdu, China.
"It was an honor to represent King's-Edgehill School and to become the first International Master of Memory in the province and country. Thank you to the staff for offering space to study and train, as well as for being so supportive throughout this journey," Xie said.
Since becoming the latest International Master of Memory, Xie has offered to help his fellow students improve their memory skills with memory improvement lessons.
King's-Edgehill School Headmaster Mr. Seagram said, "Our staff and student body are extremely proud of Evan's prestigious award and all the hard work that he put into the training that led to his accomplishment. He is an inspiration for all of us to work hard and follow our dreams."
BruceFrisko CTV puts 16-year-old Evan Xie's exceptional memory to the test, watch the interview here.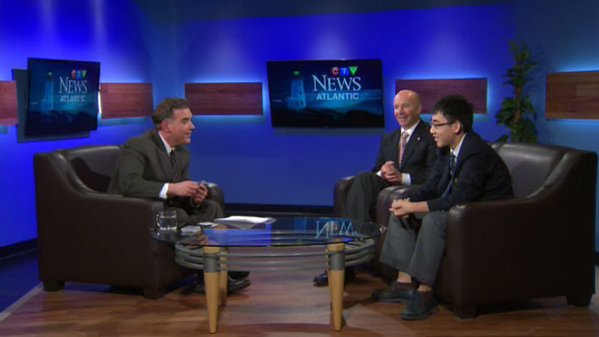 More coverage on CTV , click to play CTV clips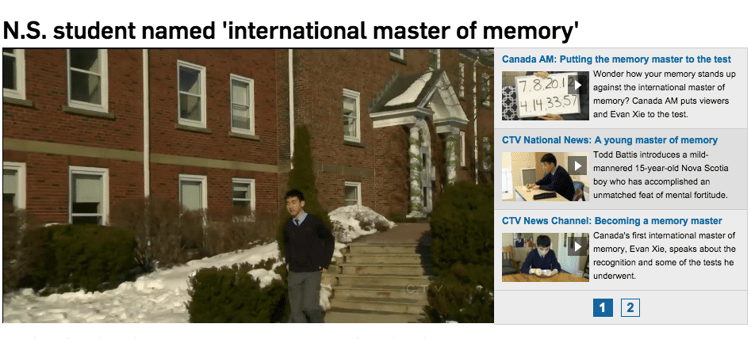 Evan on CBC Information Morning (audio)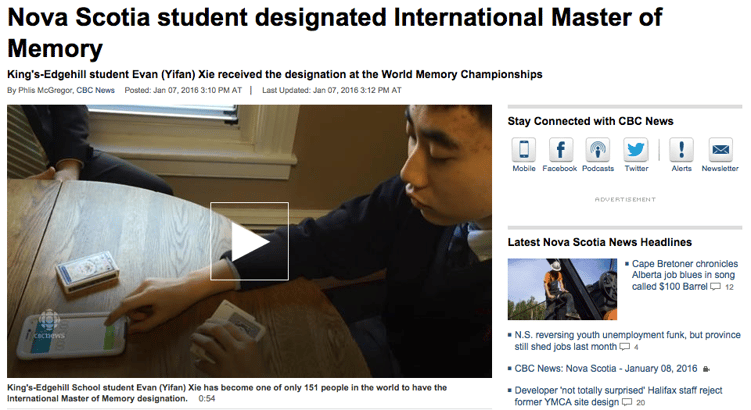 Global TV Coverage click here
CBC National News Click to Watch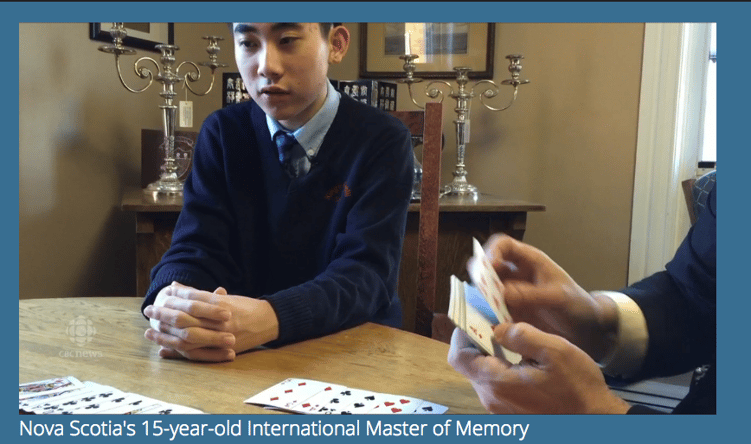 Read about Evan in the Chronicle Herald click here