Whether your child is well travelled or you have big travel dreams for them, you can rest assured King's-Edgehill School enriches their students with the opportunity to travel abroad on a regular basis. In March 2016, while some KES students were travelling through the African Safari in Tanzania, other KES students were preparing for a historical tour of Central Europe. This lucky group of KES students left Halifax on March 12th for nearly two weeks of memorable exploration through cities in Germany, Czech Republic, Hungary and Austria.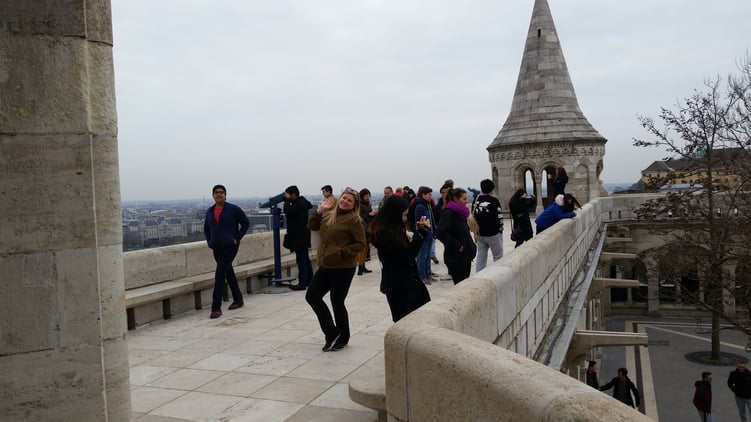 On their first full day in Berlin, KES students visited Checkpoint Charlie and the War Museum. Their time here allowed for a fresh and
challenging perspective that encouraged students to consider what it would have been like to live in Berlin at the time of occupation. The War Museum featured heart wrenching stories of families who tried to escape by jumping over barbed wire and hiding in luggage; and made the horror of being separated by family by a 12-foot wall real for many students who wouldn't otherwise understand what it could possibly feel like.
While in Berlin students were also lucky enough to have dinner atop the Berlin TV Tower that overlooked the city; tour Kreuzberg, whose streets have become the artistic canvas for talented international street artists; tour the East Gallery, which has one of the final remaining pieces of the Berlin Wall; learned local history at Kaiser Wilhelm Church; and explored Berlin's Jewish Memorial, including observing the tall concrete structures that were placed strategically over 4.7 acres serving as a reminder to the atrocities and lives lost under Hitler's reign.
Of course, some of the touring in Berlin was about having fun – including a visit to the Berlin Aquarium, shopping around Potsdam Place, and a free concert put on by the members of Berlin's Philharmonic Symphony.
Following Berlin was a drive to Prague, which consisted of lunch in Dresden, a scenic city destroyed in World War II that continues to grow and return to its original grandeur. When the students arrived in Prague they embarked on a walking tour. This allowed students to fully immerse themselves in the life, food, history, and culture of the world's largest UNESCO world heritage site, including the famous Prague Astronomical Clock. A few of the KES students and staff even had the privilege of touring a former nuclear bunker constructed at the peak of the Cold War.
In addition to visiting Prague's many squares and spring markets, students also had the opportunity to prepare a traditional Czechoslovakian meal including potato and mushroom soup, potato and smoked ham pancakes, and Nutella filled crepes – yum! Even more fun was an evening ghost tour in which students learned some interesting and humorous stories while walking around the city at night.
Finally, the group headed for the last destination, Budapest, Hungary. Before getting there they had a brief stop in Bratislava, Slovakia to view some of that country's breathtaking castles and experience its historic musical masterpieces. Students describe this part of Central Europe as breathtaking. While in Budapest, KES students and staff were treated to an evening riverboat cruise that allowed for memorable pictures and moments that will last a lifetime.
This once in a lifetime trip was filled with exploring, photo taking, souvenir buying, and learning history by seeing it up close. At KES we believe a student's education continues far beyond the classroom. The engagement, interest and enjoyment of the student's who travelled to Central Europe reinforces the importance of international travel and makes all of us at KES look forward to our next international adventure.
Interested in learning just where in the world KES students have travelled? Take a look at our Oh, the Places You'll Go! eBook, a Dr. Seuss inspired eBook that includes travel opportunities at our school. This is your guide so take a peek inside! There are so many experiences that will stimulate the mind. From ice hiking Mount Washington to the Big Apple-NYC, there is so much to do and so much to see! Click here to download your copy.