King's-Edgehill School believes in the value of learning outside of the classroom and even outside of the community. The 2016-17 school
year will see many trips for KES students, from surfing on Nova Scotia's South Shore to cooking under the Tuscan sun. As with every academic year, this year will also see plenty of opportunities for students to learn and experience life outside of school.
The first trip will be over the Thanksgiving Break and is perfect for water-loving students and staff who would love to spend a few days surfing, paddle boarding, kayaking and bonding around a campfire in beautiful Nova Scotia.
Then, a month later in November, students will have the opportunity to take in a weekend of culture, arts, sightseeing, and shopping in New York City! Students will stay in a Manhattan hotel and spend time at the MET and the Museum of Natural History. There will also be an opportunity to see Broadway shows and tour Central Park!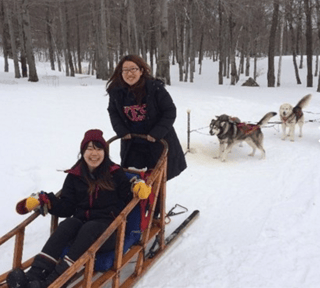 The opportunity doesn't end when the snow starts either – in fact, at KES we believe it's the perfect time for ski and snowboarders to take a long weekend trip to Mount Sainte Anne and Le Massif, Quebec to test their skills on these two challenging hills! Students are also given the opportunity to visit Vieux-Quebec and experience a morning of snow tubing or dogsledding.
For can continue their globetrotting adventures over the March Break with a trip to Europe. Students will fly into Croatia and tour the islands, then move on to Venice, Tuscany and Milan! This is sure to be an unforgettable trip that students will be talking about long after they graduate.
If Europe isn't what a student is looking for in a trip, they can instead venture to Costa Rica for an eco tour. This trip is ideal for students who have a passion for fitness and yoga and are looking for an active vacation. There will be physical circuit workouts, boot camp, yoga, hiking, swimming, and more!
As part of the curriculum, King's-Edgehill School also offers Junior School trips including a trip to Camp Brigadoon for Grade 7 students, a weekend excursion to Quebec City for Grade 8 students and a trip to Prince Edward Island for Grade 9 students!
School trips build leadership, create long lasting friendships and are an excellent way to see new parts of the country and world while getting to know teachers and other students better. Where will your school year take you?
You can browse proposed trips here, or download a copy of, Oh, the Places You'll Go!