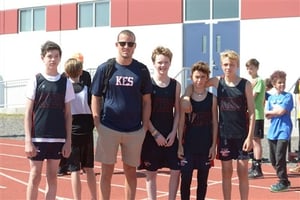 Tuesday, May 15
th
, on Day 1 of the Kings-Hants District Championships, the weather story would have been that our faces were red from a burning sun, on Wednesday our faces were red from a cold north wind. Such is Nova Scotia weather. There is also a third reason why there were so many ruddy complexions: our students ran, threw and jumped with all their effort. One of the thoughts which sprung to mind several times over the last two days as I watched many different KES athletes compete was just how much they were trying, how much they were giving all they had to the last meter. (For a handful I did think – couldn't they do this in practice?!) There is an inordinate amount of practice time that goes into a 100m sprint, and the ratio is even worse for a split second throw or jump. Better yet, if you do not perform well in that short moment of time, then you have no referee, no foul-committing player and no teammate to blame. With rare exception it's all on you. This is one of the many reasons I love track and field – there is no excuse to hide behind (and not for a coach, either). I think the happy side of this brutality is that it brings the team together. I heard many rounds of cheering and saw plenty of support. Oh, and I also received compliments by others more than once that "I could only see a sea of KES students moving the hurdles and the high jump mats (heavy and large)". That is the best of feedback.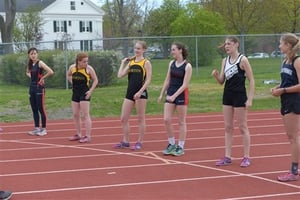 As for the results, that has to be started by the District records broken by
Mae Batherson
('19) and
Duncan McLaughlin
('20).
McLaughlin
furthered the previous all-time District intermediate 1.5kg discus throw by 1.99 meters for a distance of 39.10m. In her first year as a senior,
Batherson
crossed out the 2013 record of 13.31 by power hurdling her way to a 13.23 performance.
Batherson
competed in 4 individual and 2 relay events and qualified for Regionals in all 6 events. She added GOLD medals in the 4x400 with teammates
Amelia Humphrey
('19),
Lindsay Hogan
('19), and
Antonia Zeigler
('19) and in the 4x100m relay with
Amelia Humphrey
('19),
Kathleen Balcome
('19), and
Jordyn Hickey
('19). Along with relay GOLD,
Jordyn Hickey
('19) had another golden performance, this time as an individual, in her senior girls javelin throw.
Brisnel Etou Bosseba
('20) competed in four individual intermediate events and two relays, qualifying for Regionals in all and winning the 100m Dash, and High Jump and led in the winning 4x100m relay along with
Andrew Atwood
('20)
, Duncan McLaughlin
('20)
, Ryan Costello
('20).
Josh Mills
('19) took home two GOLDS in the 100m and 200m Dash.
Aria MacDonald
('21) bested her competition by a large margin in striding to a GOLD medal in the intermediate 800m race.
Adeolu Kofoworade
('18) seemingly hovered over the bar and the competition in winning the boys senior division high jump. Though he didn't collect any gold medals,
Luis Espinosa
('19) definitely deserves the Iron Man award for placing 2
nd
in the 400m Dash (which would have been a District record were it not for the 1
st
place runner also breaking it), 2
nd
in the 800m, 2
nd
in the 1500m and 2
nd
in the 3000m.
Espinosa
then led his team in the 4x400m relay to a (wait for it) 2
nd
place finish. It should be noted that he did not fall 2
nd
to the same person each time. 400m to 3000m is a very impressive range.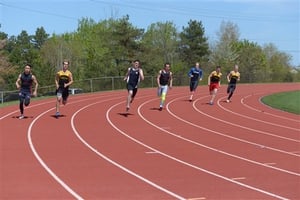 The following list of athletes will be competing next week in the Regional Championship Meet at Acadia University (May 25, 26). I should be receiving our Regional information soon and then I can pass along the schedule. There will be some movements in the relays. The top 4 competitors in track events and the top 5 in field events move forward to Regionals. Even though our A and B team in the Junior Boys 4x400m race both placed in the top 4, we can only move forward one relay team. This does show our great depth, however. If I missed anyone, I can assure you it is not intentional, but please do let me know. IB students who did not compete at Districts but will be competing at Regionals are not listed.
All this success does not come from one person, but rather as a bunch of people working as one team: Thank You to our coaching staff,
Mr. Manny Avila
(Boys Sprints, Hurdles, Horizontal Jumps),
Ms. Sue Bouwman
(Girls Sprints),
Mr. Jeff Smith
(Throws),
Mr. Brodi Robinson
(Mid-Distance, Distance),
Mr. Derek Bouwman
(High Jump),
Mr. Brian Casey
(High Jump, Mid-Distance, Distance) and a special thank you to our
Master Head Coach Mr. Guy Payne
in his 51
st
year with KES athletics guiding our programme.
Hurdles
Elena Julien 4
th
Junior Girls
Mya Snarr 3
rd
Intermediate Girls
Kaylee Hickey 4
th
Intermediate Girls
Mae Batherson 1
st
Senior Girls
Jordyn Hickey 3
rd
Senior Girls
Kathleen Balcome 4
th
Senior Girls
Tristan Alleyne 4
th
Senior Boys
400m Dash
Brisnel Etou Bosseba 4
th
Intermediate Boys
Amelia Humphrey 2
nd
Senior Girls
Luis Espinosa 2
nd
Senior Boys
Jarred Douglas 4
th
Senior Boys
100m Dash
Magdalene Mills 3
rd
Junior Girls
Brisnel Etou Bosseba 1
st
International Boys
Andrew Atwood 2
nd
International Boys
Kathleen Balcome 2
nd
Senior Girls
Josh Mills 1
st
Senior Boys
Derek Chan 4
th
Senior Boys
1500m
Aria MacDonald 2
nd
Intermediate Girls
Luis Espinosa 2
nd
Senior Boys
200m
Magdalene Mills 2
nd
Junior Girls
Brisnel Etou Bosseba 2
nd
Intermediate Boys
Andrew Atwood 3
rd
Intermediate Boys
Amelia Humphrey 3
rd
Senior Girls
Mae Batherson 4
th
Senior Girls
Josh Mills 1
st
Senior Boys
Derek Chan 3
rd
Senior Boys
800m
Roberto Silva Payan 4
th
Junior Boys
Aria MacDonald 1
st
Intermediate Girls
Amelia Humphrey 2
nd
Senior Girls
Luis Espinosa 2
nd
Senior Boys
4x100 Relays
Junior Boys 4th (Roberto Silva Payan, Rodrigo Morales Portillo, Eduardo Villalobos Arandia, Luis Alejandro Medina Ongay)
Intermediate Girls 4th (Kaylee Hickey, Kelly Bouwman, Tyra Alleyne, Maritere Pozos Castro)
Intermediate Boys 1st (Brisnel Etou Bosseba, Andrew Atwood, Duncan McLaughlin, Ryan Costello)
Senior Girls 1
st
(Amelia Humphrey, Mae Batherson, Kathleen Balcome, Jordyn Hickey)
Senior Boys 2
nd
(Josh Mills, Derek Chan, Zach Evelyn, Spencer Lockyer)
3000m
Aria MacDonald 2
nd
Intermediate Girls
Tanner Humber-Dredge 4
th
Intermediate Boys
Antonia Ziegler 2
nd
Senior Girls
Lindsay Hogan 3
rd
Senior Girls
Luis Espinosa 2
nd
Senior Boys
Yasuyuki Saji 4
th
Senior Boys
4x400
Junior Boys 2
nd
(Roberto Silva Payan, Rodrigo Morales Portillo, Eduardo Villalobos Arandia, Luis Alejandro Medina Ongay)
Junior Boys 4
th
(Cameron Stephens, Zane Scott, Zach Logan, Greyson Corbett-Lumb)
Intermediate Boys 4
th
(Brisnel Etou Bosseba, Andrew Atwood, Duncan McLaughlin, Tanner Humber-Dredge)
Senior Girls 1
st
(Mae Batherson, Amelia Humphrey, Lindsay Hogan, Antonia Zeigler)
Senior Boys 2
nd
(Josh Mills, Spencer Lockyer, Nicholas Cheverie, Luis Espinosa)
Long Jump
Roberto Silva Payan 4
th
Junior Boys
Mya Snarr 5
th
Intermediate Girls
Duncan McLaughlin 4
th
Intermediate Boys
Adeolou Kofoworade 2
nd
Senior Boys
High Jump
Kaylee Hickey 2
nd
Intermediate Girls
Brisnel Etou Bosseba 1
st
Intermediate Boys
Duncan McLaughlin 3
rd
Intermediate Boys
Mae Batherson 3
rd
Senior Girls
Jordyn Hickey 4
th
Senior Girls
Adeolu Kofoworade 1
st
Senior Boys
Nicholas Cheverie 5
th
Senior Boys
Paul MacInnis ('18) 6
th
Senior Boys
Triple Jump
Mae Batherson 2
nd
Senior Girls
Sarah Lynch 4
th
Senior Girls
Shot Put
Allie Martin 3
rd
Intermediate Girls
Ryan Costello 4
th
Intermediate Boys
James McGregor 3
rd
Senior Boys
Lane Latreille 4
th
Senior Boys
Discus Throw
Quinn Emery 5
th
Junior Boys
Duncan McLaughlin 1
st
Intermediate Boys
James Atwood 5
th
Senior Boys
Magdalene Mills 4
th
Junior Girls
Javelin Throw
Kyra Jarvis 4
th
Intermediate Girls
Jordyn Hickey 1
st
Senior Girls
Olivia Drava 4
th
Senior Girls
Josh Mills 3
rd
Senior Boys
Spencer Lockyer 4
th
Senior Boys