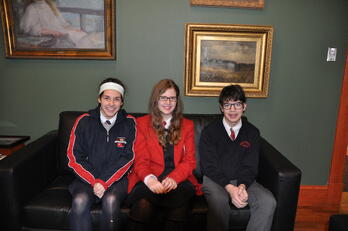 Almost 1500 km from home, three teens from Labrador City are getting a chance to explore their interests and excel. Caroline Barthe (Grade 12), Patrick Walsh (Grade 10) and Amy Cornick (grade 8) all hail from the same small community. Caroline and Amy were practically neighbors at home, but never knew one another until connecting at school.
Patrick Walsh was introduced at a young age to skiing in Labrador, but couldn't get on the hills as often as he liked. As a member of the King's-Edgehill Ski Team, Walsh gets the chance to ski almost every day; skiing is one winter sport option at KES. Caroline Barthe, a Senior School Prefect , is pursuing her love for boardercross and fine arts. She's also looking forward to the upcoming school trip to New York City - an enhancement of the KES fine art curriculum.
Amy Cornick, who just joined the King's-Edgehill student body this year, enjoyed getting a role in the Senior School musical this fall and is also learning piano and voice while continuing her guitar and clarinet playing.
"I just love being on stage," says Amy, "I really feel at home performing. I know I'm lucky to get so much drama and music during and after school."
Amy's father, Peter Cornick, is an alumnus of King's-Edgehill School, and was also involved in musical theatre as a boarding student. Cornick helped warm all three teens to the idea of boarding school. While the teens may not have known each other back home, Cornick spreads his passion for the school throughout the community, which is how both Amy and Patrick learned about King's Edgehill School.
"It's not that we don't love where we live. The kids are thrilled to come home, see their friends, and jump back into community events," says Peter Cornick. "But boarding school is a great place to discover yourself and what makes you special. You carry that confidence and passion with you for the rest of your life – wherever that life takes you."
The student body at KES (approximately 300 students) hails from 20 different countries. The school's small size and focus on educating the whole child exposes students to different perspectives, a range of activities, and more opportunities to join teams, stand out and succeed.
"Patrick, Amy and Caroline all represent Labrador extremely well," says KES Headmaster Joe Seagram. "They are great contributors; they're eager to succeed and we love watching them develop into very talented young adults."
Interested in learning more about a typical boarding student's day at King's Edgehill School, download your copy of A Day In the Life of a Boarding Student.