Happy New Year! Although holiday celebrations during these pandemic times were a little quieter than usual, the slower pace provided time to contemplate what really matters in our lives. During this COVID Christmas season, the need to help and support others seemed amplified. Our community response was widespread and meaningful. Eight local families in need benefited from our student, staff and parental gift donations. How wonderful it must have been for these families to experience the magic of the holiday season on Christmas morning. Our local Feed Nova Scotia Food Bank also benefited from the generosity of our community. The bins under our Christmas Giving Tree were heaped full of non-perishable food items that were transported to the Windsor Food Bank on the final days of term. Special thanks are extended to
Claire Morton, Danica Scully, Ava Shearer
and
Reegan Wagg
who loaded the van and made the delivery, and to all the students and families who gave so generously.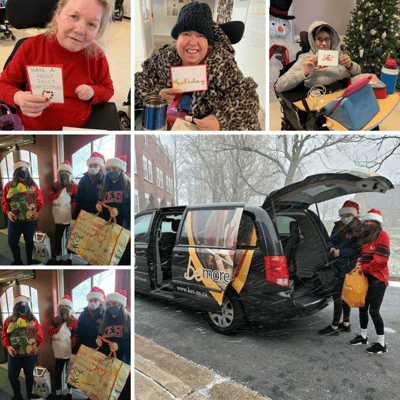 The Christmas card project also put smiles on the faces of local patients. KES alumna and former house parent
Shana Vidito (2007-08; staff 2013-17)
is a caregiver at a nearby long-term care facility. She sent out a media request for cards for her residents over the holidays and
Mrs. Belliveau's
card-making club members immediately put their creative talents to work, producing thirty Christmas cards that put smiles on the faces of those who received them. What a wonderful way to bring joy to others. As we reflect on our variety of efforts to help others this Christmas, we can see firsthand that the lasting joy of the season really comes from the giving.