For today's students, success is measured by more than academic proficiency. Today's successful students are well-rounded and deeply involved in their school communities. This wonderful combination of academics and involvement offers the students of King's-Edgehill School opportunities to develop leadership skills that will serve them well into the future.
At King's-Edgehill School we realize there are very few things that are as important to success as leadership. All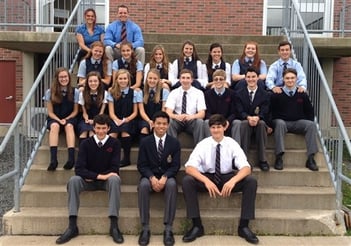 of our students are encouraged to take on leadership roles and develop a skill set that will help them through their college years and into their chosen profession.
Students at King's-Edgehill School who become involved in opportunities such as our Steward and Prefect leadership programme see many long term benefits. Each year our Programme Supervisors and the Headmaster select a few dozen Stewards and Prefect leaders. These student leaders are chosen based on their maturity, consistent performance of responsibilities, and their ability to live by the School's values of dignity and respect while working with their fellow students. Throughout the year, our Stewards and Prefects get many opportunities to support fellow students and build their leadership skills.
Student leaders gain confidence. Being in positions where peers recognize one's leadership can be very empowering.
Students in leadership positions at King's-Edgehill School develop excellent communication skills. These students learn to speak with confidence and poise.
Student leaders gain an appreciation for responsibility. They learn to identify the tasks that need doing and understand the importance of working to the best of their ability to bring all tasks to successful completion.
Students in leadership positions learn the importance of collaboration and negotiation. At King's-Edgehill School we help your child learn that, despite conflicting priorities and ideas, it is possible to work so that everyone feels heard and valued.
Student leaders improve their problem solving skills. Working closely with students, we teach them to prioritize tasks and hone their ability to multi-task.
Students in leadership positions develop management skills that will eventually become second nature. Prefects and Stewards learn to perform their duties while overseeing and assisting others.
Students in leadership positions learn to recognize their own talents. We help all our students develop their talents and discover new ones. As your child faces new challenges, we support them to find the hidden strengths within themselves that will help them succeed.
At King's-Edgehill School, as our students grow into great leaders, we show them how to recognize their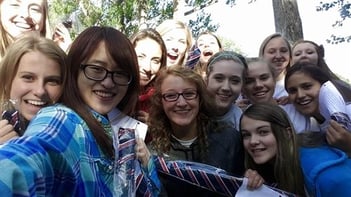 successes and we encourage them to use their leadership skills to help others develop their skills. We understand the importance of recognizing success in leadership. We do our utmost to help students build on their success and see how it will help them succeed in every aspect of their life at school and in their future.
At King's-Edgehill School, we promote student leadership. Our Steward and Prefect programme is just one example of the many opportunities that we present our students to have them develop the skills to be the best they can be as they become leaders of tomorrow.
Learn more about our school by planning a visit.