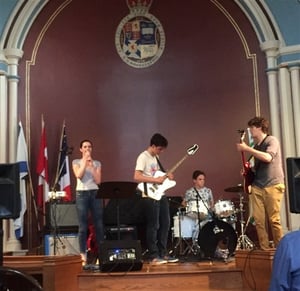 The typically quiet Convocation Hall was rocking this week and filled with cheering and applause, as two KES bands performed for staff, students, and parents.

Organized by our very own Junior School teacher and songwriter/performer, Mr. Patrick LePoidevin, the night kicked off with the band Alcazar. This group of KES students has been together for several years and group members include Nick Cheverie (drums), Max Cole (guitar),Linus Mulherin (guitar), (Grace Gallant absent last night, but plays bass guitar in the band), and Aria MacDonald (lead vocalist). This group lit up the stage with covers from Led Zeppelin, Black Sabbath, and Radiohead, and the crowd went wild.

Next up was Pat LePoidevin with drummer David Wolf (Teacher and Middle Inglis Houseparent), playing songs from their new album that is being released on June 8, 2018 (Captain Myles and the SPR). The songs on this album revolve around a story written by Pat about two children who accidentally build a rocket ship and fly through outer space. There was also a guest appearance by Mr. Brodi Robinson for a country number called "Cha Cha". This is Pat's 5th full length album, and this summer he and David Wolf will be playing for fans in Eastern and Atlantic Canada on a summer tour.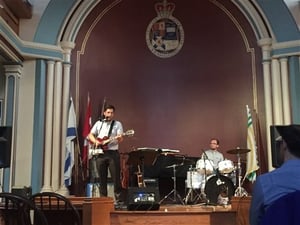 The performances were truly "out of this universe", and the KES audience was captivated listening to both groups' talent. Our community is beyond fortunate to have such gifted role models who are not only enthusiastic to share their own music with others, but also encourage and motivate our youth to dream big and get out there and perform for others! Click here for a quick preview.
There's always something exciting going on at King's-Edgehill School, it's in the air. You can hear music in the halls, smell healthy meals cooking, see original artwork and performances and feel the energy of students who love to learn. Experience it for yourself! Plan your visit here.