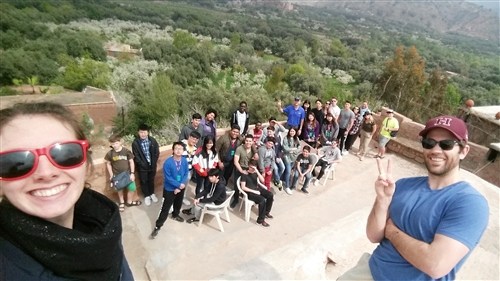 The KES Europe/Africa squad has returned from their travels abroad. Our trip began with a tour of the capital
of Spain, Madrid, where we saw how grand the city presents itself and its beautiful architecture, including the bull fighting stadium. For our soccer/football fans, we were fortunate enough to get a tour of the Real Madrid FC stadium before enjoying shopping in the city center square once used as a bull fighting arena centuries before. Our itinerary took us next to the old city of Toledo, where we soaked in the breathtaking landscape of the walled city before touring the city center itself. As was the common theme in southern Spain, the Moorish and Christian architectural influence was marvelous. This was clearly evident in Granada, where we walked the parapets of the ancient Alhambra Palace, once home to Muslim and Spanish kings alike. The most fantastic and intimate experience thus far was the flamenco show inside an unassuming home, whose basement opened into a low hanging, concave ceiling covered in photos and decorations from the past century of flamenco performances in that very room. Some students were called up to dance with our hosts before we made our way back on the bus through the winding and dimly lit streets of old Granada. The twisting road through the Sierra Nevada mountain range, dotted with olive farms and beautiful countryside, led our group to the Costa del Sol resort town of Torremolinos. Sitting on the Mediterranean, this was an opportunity for our students to hang out on the beach directly in front of our hotel before our delicious paella cooking class.
Before we knew it, we were on a ferry across the Strait of Gibraltar and into our second continent and country, Morocco. Our first destination was the ancient city of Fes, where our most unique experience took place. We were given a guided tour within the old city center, called the
Medina
, where the narrow alleyways were wide enough only for a cart and donkey. Within these 'streets' we saw every sort of little shop cut into the sidewalls, no larger than one's spare bedroom. The smells would change from fish, to plants, to bread, to sweets every few dozen steps we walked. The myriad of identical looking passage ways between the several storey buildings was at timse intimidating, until we would be pulled into unassuming doorways that opened up into a grand courtyard where families once lived centuries ago. Many were now used as factories for the fine rugs, scarves, or leather that dotted the
Medina
. Our time in Fes was capped with an authentic Arabian dinner show inside one of these old family-dwellings converted to a restaurant. The evening included dancing, magic tricks and of course, authentic Arabic food.
From Fes we drove through the Atlas Mountains into Marrakesh, where the massive center square hosted an almost too lively night market. Here our group negotiated for souvenirs, stopped to watch snake charmers and picked one of a hundred little booths to eat a meal cooked right before you. Our group was also treated to tea at a residence in the Ourika Valley outside the city and later enjoyed a camel ride near a desert oasis. After stopping briefly in some of the other larger cities, Casablanca, Rabat and Tangiers, we were back in Spain to visit another favorite city, Seville.
The historical, rich merchant city of Seville took us by surprise with its charm and splendour. The old town where we spent most our time was colorful and full of patio restaurants throughout. The narrow streets offered well-kept, centuries old buildings converted to private villas and apartments. Local artists demonstrating their crafts treated us to live music and painting, between our searches for trinkets in small basement shops. In the old-city's heart lay the grand Alcazar royal garden palace with its water fountains, courtyards and marbled pillars. Seville stole our hearts before we left to Portugal, and so we gladly left in hopes of one day returning.
We first saw Lisbon from quite afar as we drove in over the seventeen kilometer long bridge crossing the river leading to the Atlantic. Lisbon had its own charm in its distinct architecture and style. There is clear reverence for the sailors and royalty who brought Portugal its centuries of splendour long ago, as the monuments and monasteries attest. Keeping with cultural experiences, we were treated to a Fado show where men and women alike put on display their incredible voices through storytelling over tranquil background music. From Lisbon we were back to Spain one last time ending where we started, spending our free time touring the city center of Madrid and buying all the last toys, trinkets, and souvenirs we could find to later reminisce on our amazing trip. One last modern flamenco show was a fitting finish to an already spectacular adventure. We were sad to leave in the end, although the unexpected snowfall in Portugal/Spain the last few days helped our transition back to the snowy, cold Canadian weather.
Students truly took in the most authentic experiences of our three host countries. Whether negotiating for souvenirs in Morocco, cooking paella in Spain, or the captivating Fado show in Portugal, the sights, sounds, and smells will endure in our memories longer than the trip itself.
As we learned to say from our fantastic tour guides,
Gracias, Obrigado, et Merci!
To learn more about the travel opportunities all KES students are given, download our "Oh! The Places You'll Go" PhotoJournal: