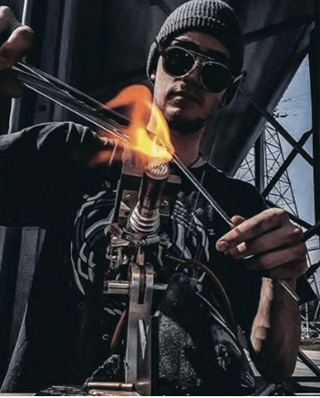 I attended Kings for my senior year and graduated in 2012. My time there was short, but I met many friends through the experience and enjoyed the ride. I have been living between Halifax and Jacksonville, Florida since 2007. I've always had an entrepreneurial mindset and during ski season, I waxed skis/snowboards in my dorm room for my KES classmates. When I graduated, I decided to take some time to figure my direction in life. It wasn't until I discovered glass in 2014 that I had really found my passion and a craft I could spend a lifetime exploring. A gallery show at Habitat Glass Gallery in West Palm Beach really opened my eyes to the potential of the craft.
I spent time going to live demonstrations around Florida and went to a glass convention in Eugene, Oregon. In 2015, I left Florida to road trip around North America. I toured major cities up the east coast for a month and made it back to Halifax. From there I trekked across Canada during the winter, meeting over 30 Canadian artists and selling my craft to 16 stores across the country. By the end of April, I had made it to Northern California where I spent a few seasons. I've driven across Canada/USA 6 times now and collaborated with high profile artists in my industry. Currently, I work at my family's brewery, Garrison Brewing Co, and blow glass in my spare time. On Mondays, I enjoy promoting my glass and encouraging people to get involved by hiding a marble every Monday somewhere in Halifax. You can find my work and Monday marble drops @ustayglassy on Instagram or on my Facebook. Next, I plan to return to the States in the winter to obtain my citizenship and attend school. There are very few schools that offer glass classes and only Salem Community College in New Jersey, offers an actual degree. There I'd like to take scientific glass blowing and continue my journey with glass. My advice to future
KES alumni would be to find your direction before jumping into more school. I now have a trade I'm passionate about, otherwise, I may have wasted this opportunity. Live your best life everyday.
Does this make you nostalgic for your days at KES? Stay in touch with us and each other, and keep up with all the goings-on at School. More reasons to be part of our alumni database - here.