I hope you enjoy our virtual exhibitions. We admire not only our students' skills and creativity but also their courage in sharing their work with us. Please join me in congratulating our 2020 IB Visual Arts students on their hard work and achievements.
I would like to introduce IB Artist:
Jiaqi (Selena) Liu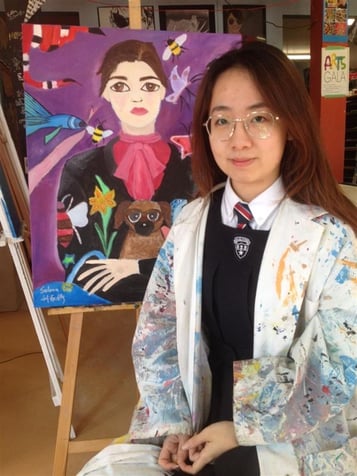 Figure 1:

The scenery of Jinan
Many people's understanding of China is Beijing, Shanghai or Guangzhou. Although Jinan is not a famous city, the scenery in Jinan is beautiful. I wanted to show my hometown through my art works. First is my painting. This painting is the night scene of Jinan. In addition, I love photography, and I especially like to record good memories and beautiful scenery with my camera around my city.
Figure 3:

The woman with the dog
This is an influence from Gucci's illustrator Helen Dowine as an oil painting. She presented each model on the Gucci runway in abstract form. According to Helen Dowine, each woman's appearance is very exaggerated, they all have very big eyes and look very sad.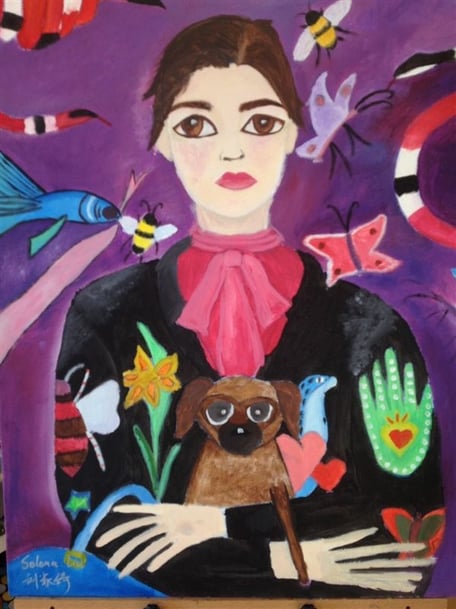 Figure 4:

We and the Dinosaurs
This one is my creative works. I put a cartoon image of me and my boyfriend in the middle. Because these cartoon dinosaurs have become so popular in China recently, many people have photoshopped their photos with them. So, I painted three dinosaurs around us in the form of a painting to "protect" us. I finished this interesting work with a few handmade roses as an ornament.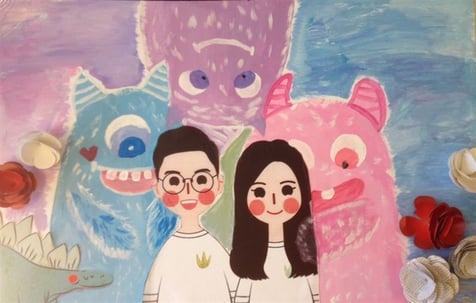 Figure 5:

Crush

This is
Finding Nemo's
turtle, Crush