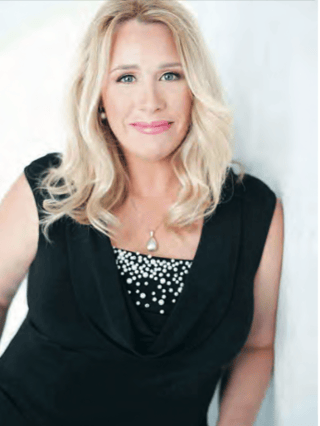 I came to KES in 1983, as an adult, I am more inclined to say that the move was motivated by an opportunity to experience a more challenging academic environment and broader range of extra curricular activities; however, in reality I was more interested in going to a school with boys, and the idea of not living at home was highly appealing.
After graduating in 1988, I attended Bishop's University for two years. I transferred to Dalhousie University to attend the Costume Studies Program, followed by The Nova Scotia College of Art and
Design. I graduated from NSCAD with a BFA in Textile Design and Art History. In 1993, I married, and had my son Christopher Titus (2012). I am living in Ponte Vedra Beach, Florida, with my husband Dan, and younger children Caroline (18) and Julian (11). Christopher (23) returned to Canada to attend KES for Grades 12. After a few years of settling into American culture, I felt ready to start another business. I discovered floristry quite by accident after taking a part-time job during Mother's Day, in a florist shop. It turned out to be a great outlet for my creative side and, living in Florida, I am surrounded by gorgeous flowers and foliages for most of the year, so it was instant gratification!
I became a Master Gardener through the University of Florida, and then went on to study floral design through the South Florida School of Floral Design and the Floriology Institute. Recently, I achieved the national accreditation of Certified Floral Designer, and have received an invitation to become a member of the internationally coveted and highly esteemed, American Institute of Floral Designers (AIFD) after rigorous testing in Seattle, WA this year. In 2015, I opened a floral and event design business called Fleurs de Vedra. I also freelance for other designers like the PGA Tour's head florist, who I've worked with for five years now on The Player's Championship at TPC Sawgrass and the PGA Tour Championship at East Lake. Some of the work I have done is soon to be published in Martha Stewart Weddings magazine.
My advice to students at KES is to focus on the things that they love and are naturally good at. Follow the path of least resistance and you will be successful! Not everyone is academic and that took me a very long time to figure out.
Our students – past and present – make King's-Edgehill School great. We'd love to stay in touch with you, and ensure you stay in touch with each other. Have a look at all the benefits of staying connected here.