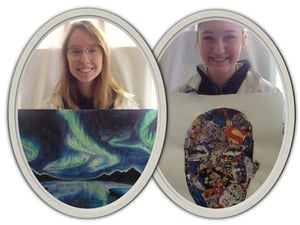 We hope to see you at our IB Art Exhibition Opening Night Reception on Thursday, March 28, 2019. This year 25 Grade 12 and 25 Grade 11 IB Art students will participate in the show. We can't wait for Opening Night!
Maddy Ross
is from Wolfville, NS, and has attended KES for three years. All of her other five siblings have also graduated from KES!
Artwork: Collage - Super Heroes
I was influenced by the artist, Sandra Chevrier. I had discovered her in Grade 8 when I was doing a project on collages. I wanted to put collages on a face and was also interested in Super heroes. I found all of the images online and then printed them and decided what I wanted to say with the images. With this project, I glued them on paper. I am now working on a similar art piece where I am using canvas and a larger format.
Future Plans
: I plan to attend University and study Engineering.
Sam Giles
has attended KES for three years and is from Windsor, NS.
Artwork: Northern Lights Oil Pastels on Paper
I have always wanted to see the Northern lights and this is where the inspiration came from for this art work. This is my first large format using oil pastels and turpentine to blend the colours. I used references for the colours and had chosen the blue/green combination. I am very pleased with this work.
Future plans
: I plan to attend University.

You'll find countless opportunities to express your artistic interests at our school. The arts make up one of the essential four pillars of a King's-Edgehill School education.