Our KES students have been working hard all term and, like all Atlantic Canadians, slogging through lots of snow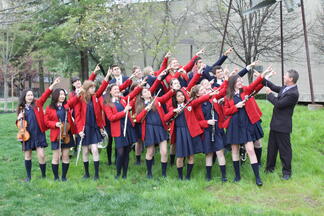 and ice. We know they'll be ready for their March Break when it finally arrives! Some students are already talking about the trips they'll be taking and it got us thinking about all the opportunities to travel when you're a King's-Edgehill student.
We all know that learning doesn't stop when you step outside the classroom; in fact, travel is a wonderful way to immerse oneself in the unknown, test one's limits and form close bonds with our colleagues.
We can't beat the snow, so at KES we embrace it! A recent trip to , saw a small group of irrepressibly-spirited students under take ice climbing training and then climb the mountain over 6 days and nights. Led and chaperoned by three senior school faculty members, Cynthia Becker, Chris Hadley, and Jason Verryn-Stuart, all reports back emphasized what a strong team-building experience this trip was.
Like the Mount Washington trip, many of our travel opportunities arise during our nice, long, school breaks. During our two week long March Break our students will head both south and east. We have group touring Europe and another group off to South America.
Led by faulty member, Angie Folker, 23 students and 4 Chaperons will tour Turkey Greece and Italy from March 15-28th.
Led by faculty member Karen Jones 10 students from Grade 9-12 will tour Peru lead by International Conservation Fund of Canada. The tour includes a 4-day Inca Trek.
During our Easter Break Jeff Smith, our Director of Visual & Performing Arts, will bring a group of 15 students to New York City. Their trip will include visits to the great museums, tickets to Broadway Musicals and other educational and cultural attractions.
Other trips are part of our curriculum and enjoyed by every student in the grade. In May, our Grade 8s will be heading by bus to Quebec City to enjoy La Belle Province's many culinary, cultural and language attractions. In keeping with tradition, our Grade 9s will visit Prince Edward Island in May – a beautiful time of year to see the red cliffs, beaches and historical Charlottetown.
And each year our graduating class has many opportunities to visit university campuses across Eastern and Central Canada. We've found that these visits help their college decision making immensely, and also inspire them to stay focused and work hard to become the well-rounded students that are accepted into and thrive at these institutions of higher learning.
Maybe it's the long winter we're working our way through, or the strengthening sunshine that promises its end, but thoughts and talk is already turning to changes of scenery, sounds and adventure!
All King's-Edgehill Students have chances to soar
All King's-Edgehill Students work hard to be more.
To be even more-er, our KES students know,
You gather your friends and you go, go, go, Go!
Oh, the Places You'll Go!
To learn more about Travel at King's-Edgehill school, download a copy of our Dr. Seuss inspired, King's-Edgehill School's Version of, Oh, the Places You'll Go!