The 254 King's-Edgehill School Cadet Corps had the privilege of representing our Corps, the Black Watch Regiment, our School and Canada at the 75
th
Anniversary of the Liberation of the Netherlands in Oss. The Battle for the Scheldt Estuary was a key initiative in 1944, where heroic Canadian troops played a major role in defeating the tyranny of the Nazis during World War II. Through a connection with Operation Veteran and the Mayor of Oss, Netherlands, 31 Cadets marched on parade proudly with pipes, drums and pride. As guests of the Dutch people, our contingent was treated with hospitality and kindness as we enjoyed a trip that we will never forget. Please
click here
for an amazing video by
Grade 12 Prefect, Eva Redmond
. Here is a daily synopsis: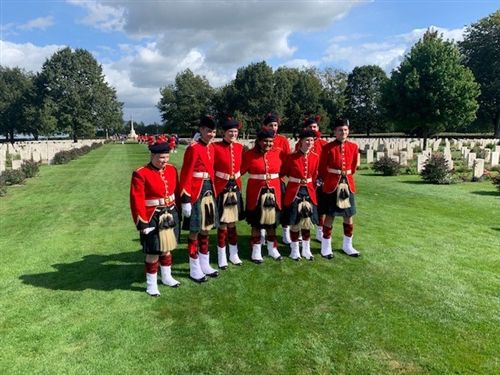 Day 1

– Sunday, September 15th
Wow! It has definitely been a 21
st
Century privilege of which we have experienced during the past 24 hours. We were ignited by the festive warmup for the Terry Fox Run at our School, and as the familiar, assuring voice of
Mrs Shields
counted down, we headed off proudly to the airport wearing our Terry Fox t-shirts and KES track suits. Lift off! Our connections were perfect, as we have just begun freshening up at the homes of our host Dutch families after a very moving welcome at the City Hall of Oss. Dinners for all - then an early to bed after an overnight in Air (Canada) B&B. (Actually no bed or breakfast but lots of air!) The welcome upon our arrival was genuine and compelling for our Cadets. We all felt genuine gratitude and the shared the love of freedom in the Council Chamber as we were welcomed by Mayor Glaudemans. Being a Royal Black Watch Regiment is very poignant here, thus teacher
Pat LePoidevin
playing the pipes after we shared some of the history with our hosts was very memorable and set the stage for celebration. From Terry Fox to the pipes, it was a very appropriately, patriotic 24 hours. We visit the Dutch School tomorrow!!
Day 2

– Monday, September 16th
Our day began with a very unique activity. A combination of physical education and the simulation of an historic event - the D-Day Landing. It is called the Liberation Obstacle Course. Needless to say: I liked the dual approach of exercise and "pulling students out of the present day" in a tactile manner. The Dutch are definitely educationally efficient and wise. The Oss, Netherland, has designed a 6 km obstacle course that simulates what their Liberators had to endure. It was tough, challenging and fun. We paddled, came ashore, ran, climbed, waded, crawled, swam, and ran some more. With the help of the Dutch Army, it was a very memorable and a fun morning. Afterwards, we visited an elementary school and had a session of conversational English with lovely Dutch children. It was a delight. The exclamation point was the finale with
Piper Pat
playing AC/DC's
Thunderstruck
for the school. We then watched our Cadets cycle home to their Dutch families navigating roundabouts and other cyclist of all ages. We have been hosted with generosity and our Cadets have represented us all as expected. Top notch! Tomorrow we will travel to Groesbeek Cemetery, where
Major Hynes
has planned a private ceremony to remember the 3688 young Canadians who "perished in the polders" 75 years ago.
PS: We were also featured in the regional newspaper!
Day 3

– Tuesday, September 17th
It was a very moving day as we travelled to Groesbeek Cemetery for our first ceremony of remembrance. We were blessed with fantastic weather and an extraordinary fly over of vintage aircraft with a multitude of parachutists re-enacting drops during Market Garden 1944. This was an incredible coincidence that actually felt too good to be true. The sky was filled with planes and "jumpers". Our choir sang beautifully as
Major Hynes
designed a very appropriate and specialized service enjoyed by all. Our Cadets had the opportunity to pay their respects at the graves afterwards. In the evening, our students gathered for a social event of pool, snacks and darts at a local venue with their billets. Our group continues to blend well with the Dutch students. Tomorrow we have a parade in the City of Oss; an event our tour has been focused on since the initial planning. This will complete our ceremonial obligations as we will travel to Amsterdam on Friday.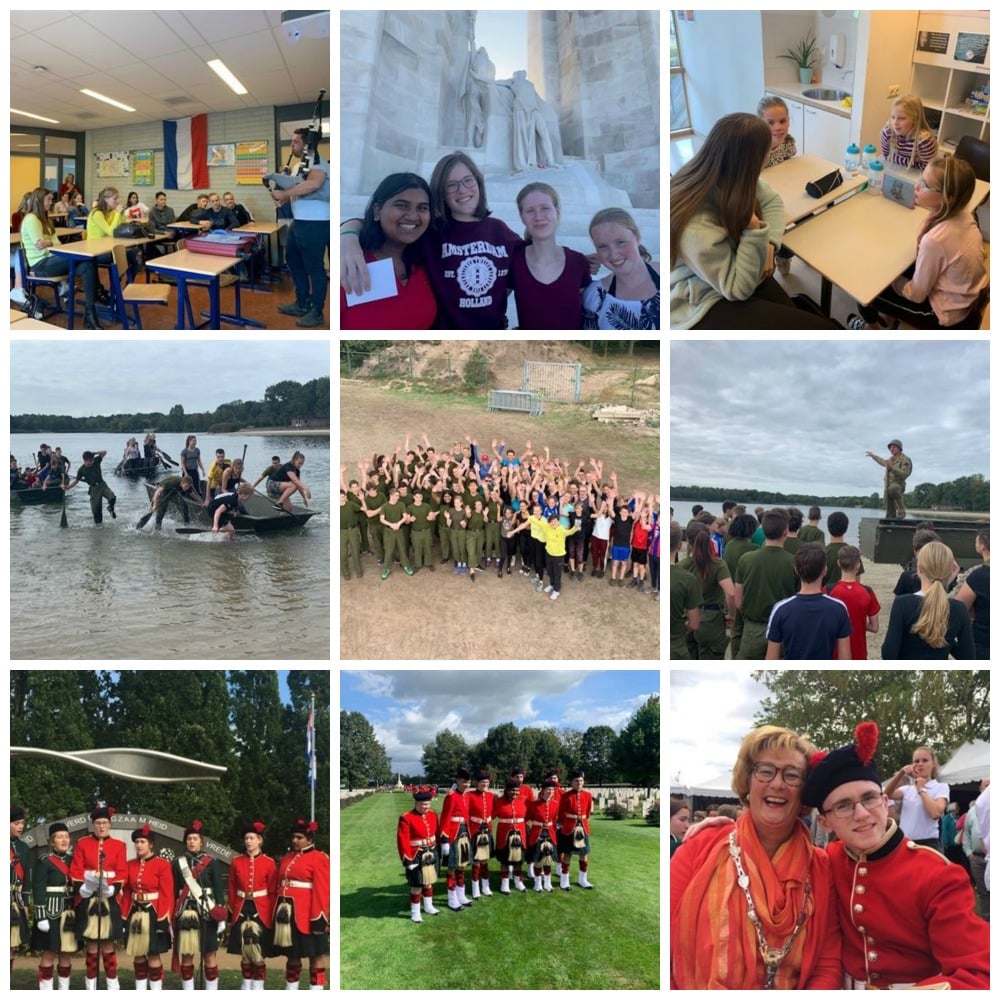 Day 4

– Wednesday, September 18th
We completed our duties as Cadets today with a lovely parade through the streets of Oss. Yesterday's ceremony at Groesbeek was serious and solemn - as it should be. Today was a celebration of the liberation.
Thane Morgan
read a poem in the public square and the girls sang. I'm not going to mention the instrument that
Pat
played; as I am well aware it's starting to drive
Mr DJ DeCoste
"bananas"; therefore, I will make note that
Freek Schep
played the drum rhythmically as we marched on parade. To appease
DJ
, for the rest of this update, I will refer to
Pat's
instrument by the Dutch word for it: the "doodle-zuck" No joke! At least that is what the word sounds like to me when they say it! I would like to commend
Pat
for his stoicism today on parade. As you can easily imagine, he has already befriended a large portion of the city. Just before he played, someone in the crowd said: "Good, the Canadian 'doodle-zucker' is going to play!"
Pat
somehow held it together at that point and fulfilled his duty.
Freek's
aunts also made the drive from their hometowns in another region of Holland and were delighted to see him. To close out the proceedings,
Liam Connors
greeted the Mayor and shared a laugh (see photo). Off to Amsterdam tomorrow to tour the Anne Frank House and enjoy the canals.
Day 5

– Thursday, September 19th
Our tour of Amsterdam passed without a hitch today as we explored the sites, had some free time and visited the Anne Frank House. There was lots of bonding with our billets as we dressed casually and soaked in this very international city. Coincidently, we became a part of a current event, when a protest march of thousands emerged as our students entered Amsterdam Square. Apparently, this is the result of Greta Thunberg's initiatives recently. Tomorrow we will visit the Vimy Memorial in France.
Day 6

– Friday, September 20th
We returned to Canada today - without leaving France – visiting Vimy Ridge - Two photos are worth two thousand words (see pictures). We also visited Beaumont-Hamel, where the Newfoundland Regiment faced lethal "hot metal" on July 1, 1916. Over 900 young men went over the top and only 89 answered roll call the next day.
Major Hynes
eloquently described the day to our students, remembering his countrymen alongside the Caribou sculpture. It was a brilliant tour - Home to "Actual Canada" soon!
Day 7

– Saturday, September 21st
Today was our final Day with our Dutch "families", thus we each had our own individual experiences. To finalize my updates, I can't resist attaching photos of some of our students with their billets.
Day 8

– Sunday, September 22nd
We arrived safely back on campus safe and sound. Our students represented us very well on tour during ceremonies and in the home of our hosts.
Our 254 Cadet Corps is an impressive group with our students parading in bright Highland Dress red. Have a look! Download the Cadet Corps PhotoJournal for pictures and more.