On Friday, February 22, our Junior School students were presented awards for outstanding Science Fair projects. Within each of our Grade 7, 8 and 9 groups, prizes were awarded for 1
st
, 2
nd
, and 3
rd
place, as well as a smattering of honourable mention awards. The winners of 1
st
, 2
nd
and 3
rd
place were determined numerically from the evaluation forms that our judges used for each student. Honourable mentions were based on any number of possibilities (high marks overall, but not already a winner of a 1
st
, 2
nd
or 3
rd
place prize, an outstanding board, an outstanding presentation, crazy levels of knowledge of a topic, etc). These awards are below.
The Regional Fair will be held from the 1st to the 4th of April this year, at the NSCC campus in Kentville. The students were narrowed down from the field of 106 students to 16 students that were considered in "Round 2", to the 9 that will represent us this year. The students that were selected are NOT necessarily the same ones who won 1st, 2nd or 3rd place positions in their classes, rather, they were the students that the judges felt would have the best chance to be successful at the next level and to vie for the opportunity to win one of four places to attend the National Fair, which this year is in mid-May in Fredericton, New Brunswick. Often, the difference between 1st, 2nd and 3rd place amongst our ribbon winners is down to decimal points, and tweaking of minor aspects of a board, a presentation, or a demonstration makes all the difference. There is also no set number of positions for any one grade, and all of the Junior School students are up for consideration for these 9 spots. The judges felt that the following people had the greatest chance of "bringing home the bacon" from Regionals, and I do believe the judges got it right: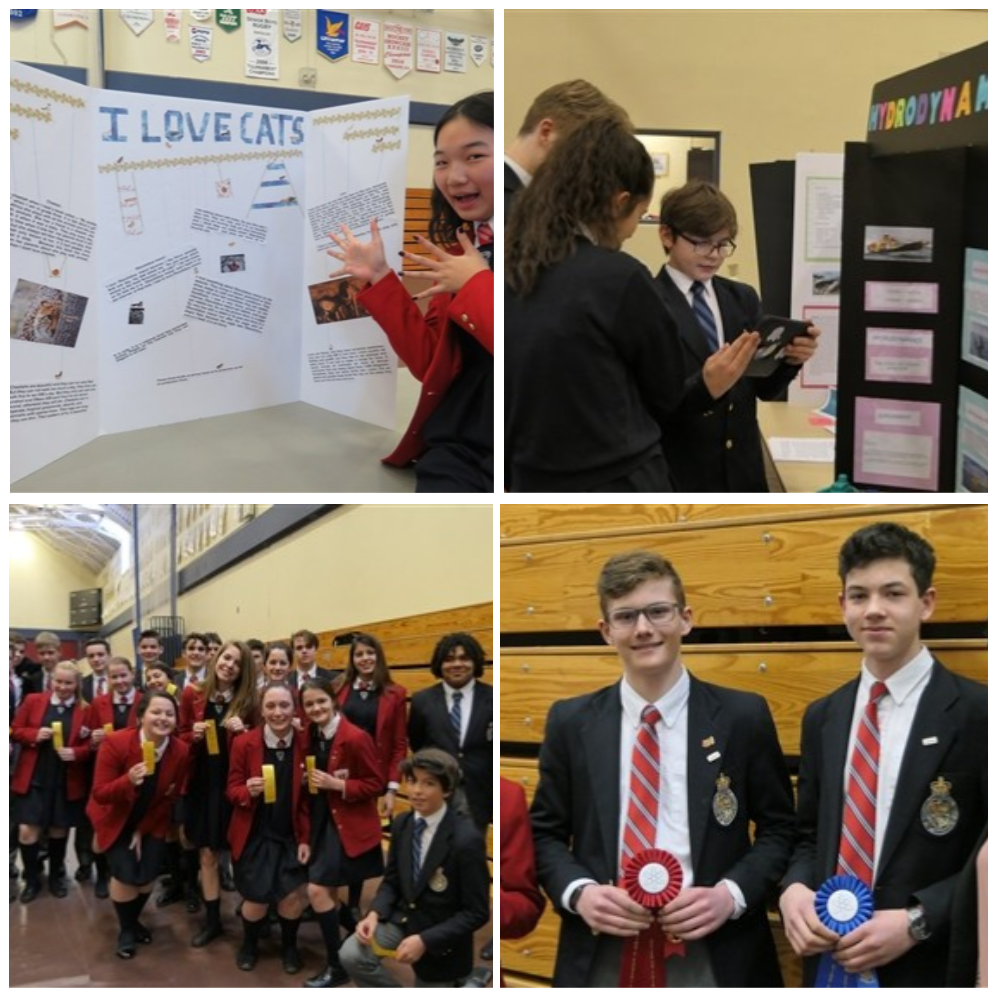 From Grade 7: Holden Hoover
From Grade 8: Jessica Ugwoke and Henry Mulherin
From Grade 9: Mitchell Larkin, Cameron Stephens, Justin Day, Greg Otto, Hannah Bryant and Will Ahern
GRADE

H. MENTION

7

Holden Hoover

Joe Power

Fox Sullivan &

Sachaa Rudrum-Bhimji

Sabine Wellard

Jacob Fines-Belcham

Gabby Shaw

Mengjin (Eric) He

Harrison Kline

Lucas Martin

8

Jessica Ugwoke

Henry Mulherin

Eric Sweetapple

Jose Arechederra

Kara Day

Luke Fawson

HyunSeo (Harrison) Kim

Georgia MacKinnon

Qiaoman Tracey

Yifan (Doreen) Xing

Valeria Cristobal

Zach Logan

Constanza Rubin

Sidney Schwartz

9

Mitchell Larkin

Cameron Stephens

Angel Li

Hannah Bryant

Thane Morgan

Sarah Hardy

Isa Gomez

Will Ahern

Carter Short

David Connors

Liam Connors

Gala Holm

Megan Mattie

Doga Mercan

Alden Mulherin

Gabby Strickey

Justin Day

Greg Otto

Quinn Emery

Bella Turner-Galaise

Luke Mainwaring

Will Mercer

Elisabeth Edwards

Abby McCarthy

Pablo Musi

Aden O'Callaghan

Freek Schep
Congratulations to all of our Junior School students for a job well done. I was truly impressed with the effort that each of them put into their work and with the quality of the boards, presentations and models that were presented!
Achievements like this make parents so proud! We find that most parents of King's-Edgehill students are happy to help out whenever they can and are eager to answer any questions prospective parents might have. Let us know you'd like to connect, and we'll put you in touch!