This week our Captains' Council group convened once again for our fourth meeting of 2020. This group is comprised of student-athletes who have been identified as leaders by their coaches on their respective Senior Varsity teams. This programme, which began five years ago, provides these students an opportunity to explore different aspects of leadership while also discussing the challenges and rewards of being a leader in our School context.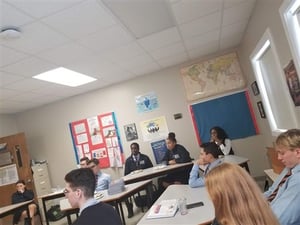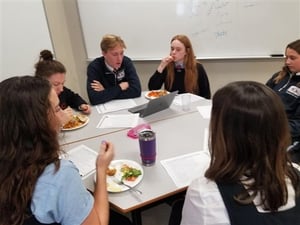 The goal is to support each student-athlete so they are better equipped to support their teammates in their respective athletic arenas. Each meeting, a small group will present on a topic and lead a discussion with the larger group of their peers. So far, they have covered Exploring Leadership, Commitment, and Composure. Our most recent meeting was facilitated by our Senior Girls' Soccer captains
Allie Martin
and
Mya Snarr
who helped the group think more deeply about Confidence. In addition to taking part in this group, each of our captains earn one of our KES Captain's Pins which are presented at our full School assemblies at the beginning of their respective sport terms.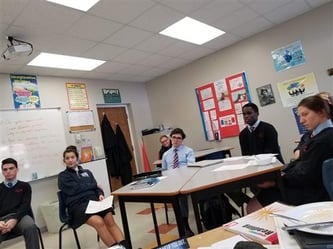 Varsity Captains (Note: group is updated as coaches identify their leaders):
Boys Soccer -
Evan Logan, Emiliano Bonilla
Girls Soccer -
Mya Snarr, Allie Martin
Cross Country -
Francois Richard, Aria MacDonald
Girls Volleyball -
Emma Coughlin
D2 Girls Basketball -
Grace Fillmore, Kelly Bouwman, Claire Englehutt
Prep Girls Basketball -
Laura Mackinnon, Heavyn Beals, Aaliyah Arab-Smith, Mackenzie Smith
Boys Basketball -
Brisnel Etou, Pablo Bezares
Wrestling -
Quinn Emery
Girls Hockey -
Ava Benedict
Boys Hockey -
Ryan Costello, Patty McInnis
Downhill Skiing -
Katie Goddard, Mitchell Larkin
Snowboard Cross -
Will Fleming Evan Logan
Boys Rugby -
Evan Logan, Christian Greco
Girls Rugby -
Camryn Kleynhans, Katie Goddard
Track and Field - TBD
Girls Softball - TBD

J. Rory Campbell
Junior English and Technology Teacher
Girls' Rugby and Basketball Coach
There's always something exciting going on at King's-Edgehill School, it's in the air. You can hear music in the halls, smell healthy meals cooking, see original artwork and performances and feel the energy of students who love to learn. Experience it for yourself! Plan your visit here.