Our comprehensive IB Curriculum goes deeper than you may expect – it even involves some keen parents. IB encourages our students to be engaged in what they are learning, rather than focusing on rote memorization. We also want to encourage our KES parents to be just as engaged as their IB students.
On Thursday, September 24th, (Rev'd) David Curry gave a short lecture and presentation about TOK to over twenty parents representing a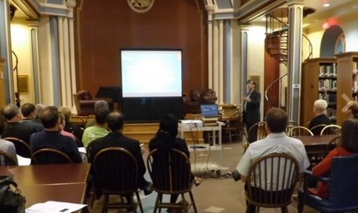 range of students, from Juniors to Seniors. TOK? It is an acronym for the Theory of Knowledge course which is an essential and important feature of the International Baccalaureate Programme, but which also contributes to the climate of learning at every level of King's-Edgehill School.
TOK is not simply about philosophy, but also about critical thinking and about the range of ways and areas of knowledge that belong to our thinking about what we know and how we know what we claim to know. In a way, TOK offers a necessary kind of self-criticism of reason itself and opens us up to the various forms of discourse that belong to intellectual life. It challenges the two forms of anti-intellectualism, dogmatism, and relativism that bedevil so much of current education. "The error of dogmatism is to mistake a half-truth for the whole truth. And the error of relativism is to think that, since the truth varies with your perspective, there is no truth at all" (Richard van de Lagemaat, Theory of Knowledge for the IB Diploma). It challenges the idea; too, that one form of discourse is somehow superior to all other forms of thinking.
The presentation included a TED talk, "The Danger of a Single Story" by Chimamanda Adichie, and a video that debunks the myth that Columbus proved that the world was flat – he didn't, because for the most part, no one ever thought that it was. TOK is really about the questions that need to be considered in each and every area of knowledge. The presentation included some examples of the kinds of questions that belong to TOK in its integration across the curriculum and as belonging to an interdisciplinary approach to learning, especially given the international aspects of the School and, of course, the IB programme itself.
TOK is mandatory for students who enrol in the full International Baccalaureate® (IB) Diploma Programme.. TOK is assessed by both a written and an oral exam. Those interested in learning more IB Curriculum can take a look at the website here: http://www.ibo.org
This was just one of the events we have planned to keep our parents involved throughout the school year. If you missed the session, further information about TOK is available here: http://www.ibo.org/en/programmes/diploma-programme/curriculum/theory-of-knowledge/what-is-tok/
Do you have a question best answered by another parent? Connect with a current KES parent and ask away!