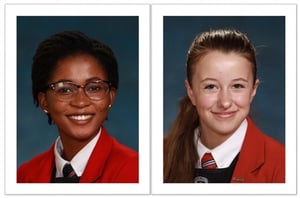 King's Edgehill is proud to introduce the first Senior School play which brings together a collection of passionate and dedicated students from Grades 10-12. Each week leading up to our opening night, our hard-working marketing team will highlight 2 students who are involved with the creation of our play, whether they are acting or working backstage. We are excited to present our talented cast and crew and hope you will support them by attending our performances on
March 29th

& 30th
!
Victoria Dubois
is one of the many actresses in the senior play. In her second year at King's-Edgehill School, she is a day student from Nova Scotia. Only in tenth grade, Victoria has already committed to studying medicine after graduation. She loves acting and is even a fantastic dancer, expressing herself in all artistic styles. Victoria believes everyone should get involved in the Arts. She says the Arts gives students the ability to be more creative and imaginative.
From Ghana,
Ohemaa Ofori
is now in her third year at King's-Edgehill School. She says being a part of the play, even only as a member of the backstage crew, allows her to get more involved in the School and to continue her love of volunteering. After graduating, she wants to study sciences and pursue a career in medicine. The importance of the Arts to Ohemaa include the ability to express herself in different ways; dance, acting, singing, etc.
Why choose King's-Edgehill School for your child? At King's-Edgehill School we help students be more than even they thought possible. Learn more in our Questions to Ask eBook.