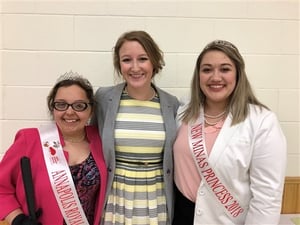 We have 3 very recent KES Alumnae who hold and held the title of Princesses and Queen in our local Annual Annapolis Valley Apple Blossom Festivals.
In 2016,
Eleanor Gallant (2011-15)
was crowned Princess Hantsport and then went on to win the Festival Leadership Competition and was crowned the 84th Queen Annapolisa. Eleanor will start her 4th and final year of her undergrad at Bishop's University this fall. She is studying Biology: Ecology and Biodiversity, and is minoring in Environmental Studies. Since graduating from KES, Eleanor has been actively involved with the Annapolis Valley Apple Blossom Festival as well as working as a pool director in the summer months. She is currently spending the summer as an Agricultural Research Assistant for Perennia.
In this year's Festival, we have two Alumnae who are competing in the Festival Leadership Competition.
Brenda MacDonald Lona (2011-17)
was recently crowned Princess Annapolis Royal and will participate at the Apple Blossom Festival Leadership competition being held from May 23-28. Brenda finished her first year of Hotel and Resort Management at Selkirk College in Nelson, BC, and will be going to Chile for her work term. Brenda is still passionate about Alpine Skiing!
Jenna Seaboyer (2011-15)
is representing her town of New Minas as a Princess for the Apple Blossom Festival for 2018. Jenna will be starting at Eastern College in July taking an Occupational Therapy and Physiotherapy Assistant course after taking many pre-requisites at both Acadia University and NSCC. She has been working at Evergreen Home for Special Care as a Recreation student as well as a Finance Student more recently.
Congratulations and good luck to our Alumnae at this year's festival!
Stay connected to the great friendships and experiences that started at King's-Edgehill School. Find out how here.