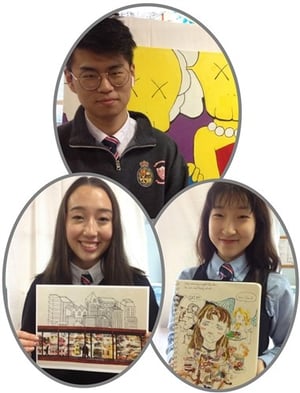 We hope to see you at our IB Art Exhibition Opening Night Reception on
Thursday, March 28, 2019
. This year we have 50 very talented Grade 11 and 12 IB Art Students who would be thrilled to discuss their creations with you.
Rayannah Hwang
has attended KES for five years. She was born in Korea and now lives in Falmouth.
I have chosen 'Building 1' as my favourite piece since it is one of my most recent works. I enjoyed working with the transfer technique, and it also includes ink and marker. I wanted to incorporate buildings into this work since the structures have always interested me. The middle of the drawing is the platform--through the glass you see colour then above the structure I wanted to draw the buildings as a skeleton or a minimalist view.
Future plans:
I plan to study Architecture.
Haoqian (Carson) Yang
is from Suzhon, China and he has attended KES for two years.
I have chosen my large acrylic painting as my favourite. A lot of people are interested in fashion and design. I have always been interested in designers. This painting was influenced by the designer, Brian Donnelly (Kaws). His style focuses on figurative cartoon characters, designs and motifs; he simplifies the image, using primary and secondary colours and also draws an x instead of eyes. I had attended one of his art shows in Shanghai and really liked his style; this was the first time I was exposed to his work.
Future plans:
I plan to attend University.
Yufei (Jessica) Wu
has attended KES for three years. She is from the mainland in China, Nanjing.
I have chosen this illustration to talk about. I have always wanted to illustrate my own experiences. This illustration is ink and pen. The central character is a small girl feeling that she has to be on a diet and is not allowed to eat. She is very unhappy and is torn between two other characters beside her. One wants her to eat all the unhealthy food and the other wants her to eat all good food. There are all different kinds of food around her. She forces herself to eat all the good food but she prefers to eat a more balance diet. Everyone needs a little sweet in their life. It is about balance and confidence to believe in yourself.
Future plans:
I want to illustrate and to go to university.
You'll find countless opportunities to express your artistic interests at our School. The Arts make up one of the essential four pillars of a King's-Edgehill School education.