Please mark
Thursday, March 28, 2019
on your calendar for this year's Opening of our
KES IB Art Exhibition
. This exhibition will showcase the very talented work of our Grade 11 and 12 IB Art Students. We are very excited because this will be one of the largest shows that we have ever hosted with 50 students in this year's exhibition! Watch for your invitation.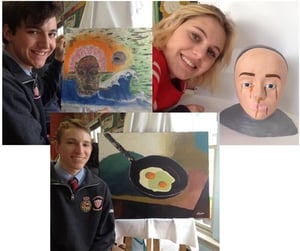 Here are the next three highlighted Artists, and I hope you enjoy getting to know them a little bit better.
Linus Mulherin
is from Port Williams, Nova Scotia, and he has been at KES for six years.
"I have chosen my collage as my favourite art piece. I liked working on it and it felt very fluid. It was a very natural process to see what direction to take it. I started with the transfer image and I kept adding layers. I enjoy this process and when it works it is very rewarding. The subject for this collage was the same as the process, very experimental."
Future plans:
"I plan to attend university."
Clare Bennett-Gibbs
is from Chester, Nova Scotia, and this is her second year at KES.
"One of my favourite art works is my clay sculpture of a head. This clay sculpture is a little smaller than life size. I chose to make this sculpture to put mental health in a visual way because mental health is hard to explain in words and I want to show how it feels. The exterior of the sculpture is a mask showing that everything is fine and the interior is a burst of emotions and the messiness that people can feel inside. The colour coming through the eyes and mouth represents that they can no longer hold it in."
Future plans:
"I plan to attend university."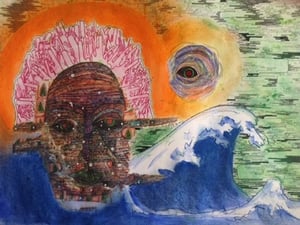 Aidyn Scott
is from Kentville, Nova Scotia, and he has been at KES for seven years.
"I chose my oil painting of the Frying Pan as my favourite piece. I enjoyed using the palette knife for the first time as it was interesting to try a different medium. I chose this subject because it is a household item but not everyone thinks of it as an art piece. Art can be found in anything and anywhere."
Future plans:
I plan to study architecture at university.
Learn about our Fine Arts curriculum from Grade 6 to IB Art as well as countless extra curricular opportunities to express your artistic passions.