At King's-Edgehill School all of our teachers are also coaches. While this requires a lot of time and sacrifice from these faculty members, they find great reward in getting to know students both in and out of the classroom and seeing these same students thrive long after they stop being their teacher and coach.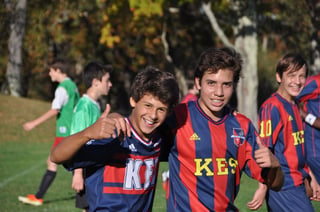 KES teachers and coaches understand that success in school isn't just about cultivating the mind. It's also about cultivating the body through physical activities. It's because of this that sports are an integral part of life for every student at KES and that we offer a wide variety of sports programs, including hockey, basketball, soccer, skiing, snowboarding, track & field, tennis, equestrian, yoga, swimming, curling and so much more throughout the academic year.

If a student is involved in a sport where their coach is also their teacher, we consider this a special bonus! When a teacher is a coach they get the opportunity to interact with students differently than they would in a classroom setting. Coaches have the ability to motivate students and teach them discipline, not only in sport, but also in the classroom. This ability to motivate and teach comes from the stronger bond formed when a student spends a lot of time with one person.
This bond is emotionally and physically beneficial for both the student and the teacher/coach. The student learns the importance of friendship as well as the importance of staying physically active through sport, and the teacher/coach can see the difference they make in the lives of their students simply by being present. The mutually beneficial relationship can be seen through the recognition many of our faculty coaches have received throughout the years.