With more than 4500 student-athletes participating in the 10 District Championships, track and field is by far the biggest sport in the NSSAF. That number is greatly reduced at the Regional Championships, and then reduced further at the Provincial Championships. It is a long road to the top of the podium, but the KES jersey was seen many times over the past two days of competition.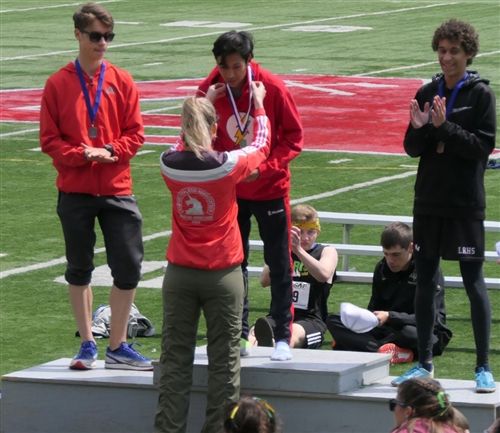 Provincial Champion - Senior Boys 800m Run,

Luis Espinosa '19
Provincial Champion - Senior Girls 200m Dash,

Aaliyah Arab-Smith '20
Provincial Champions - Senior Boys 4x400m Relay -

Andrew Atwood '20, Brisnel Etou '20, Jarred Douglas '19, Luis Espinosa '19 (District substitute, Duncan McLaughlin '20, Regional substitute, Ryan Costello '20
SILVER Senior Boys Discus Throw,

Duncan McLaughlin'20
Intermediate Girls 3000m,
Aria MacDonald '21
, 4th
Intermediate Girls 800m,
Aria MacDonald '21
, 8th
Senior Boys 3000m,
Luis Espinosa '19
, 7th
Senior Boys High Jump,
Brisnel Etou '20
, 7th
Intermediate Girls Shot Put,
Allie Martin '21
, 9th
Senior Boys High Jump,
Jake Hunt '19,
9th
Senior Girls 3000m,
Antonia Ziegler '19
, 9th
Luis Espinosa '19
became Provincial Champion and the first KES runner in our long history to break the 2-minute barrier in the senior boys 800m run. His time of 1:58.36 will be on the Wall of Payne list for a long time. I hope that
Luis
will drop his times even further on the McGill University track and field team come September. KES is already well represented there with cross country rookie of the year
Meredith Chambers '18
. Luis also ran the 3000m and earned points with a 7th place showing.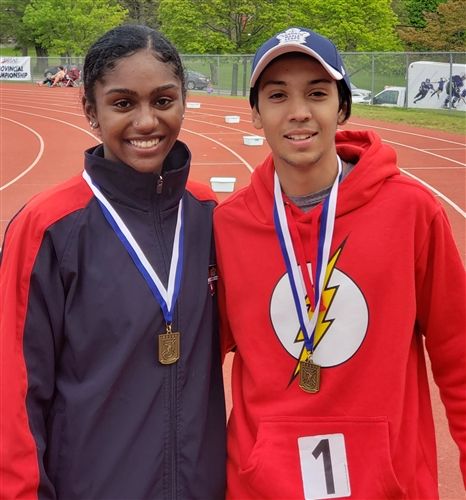 Aaliyah Arab-Smith '20
has made an impressive first showing at the NSSAF Championships as she powered her way through 200 meters to sweep both short sprint events (100m GOLD) yesterday). If she is as dominant on the basketball court as she is on the oval, then she just might be helping the Raptors, soon.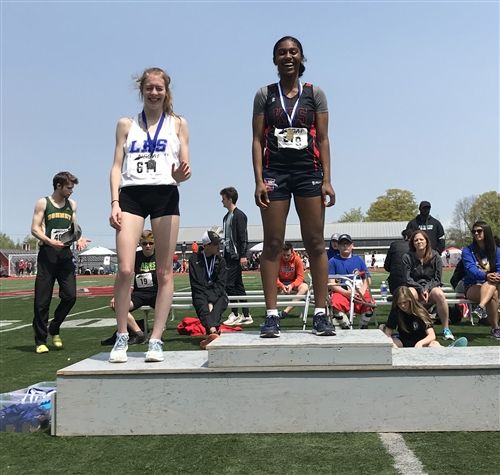 Our Senior boys did not have the 4x100 baton passing moment that they wanted to, but they rebounded with energy in the 4x400m relay. Running by themselves - way out in front - in the much slower first heat, they needed to set a time that couldn't be beaten by any of the racing teams in the second heat.
Andrew Atwood '20
led the charge with his much-practiced starts, and while hoping to beat his best 400m time by seconds and run a 54,
Atwood
lowered that to 53 seconds.
Brisnel Etou '20
, received the baton with the intention of earning a medal that didn't come his way in the high jump earlier that day. A blazing 53 increased their lead. When the time came to hand off to
Jarred Douglas '19
, I'm sure that
Brisnel
could not have hopped a train! He was done! Not having the Regional results that he desired,
Douglas
managed to stay positive and seek GOLD for his team with a blazing 52 second turn of the oval - fastest leg of our relay! If you've been counting, then you know the fourth and final runner was team anchor
Luis Espinosa '19
. Just in case your math is off,
Luis
had already raced 6100m by this time, and he had 400m left to go for glory and GOLD. Battling the clock rather than an opponent is far harder and each of the boys had that battle. After 1600m they clocked a 3:33.20 effort. At this time we knew that they had earned spot number 2 on the Wall of Payne (#1 was the previous provincial record in 1976 of 3:31.50), but we had to wait a tense 3:33.30 seconds to see if they had won. It turns out that we had to wait until 3:37.06 to see the time of the second place team. Provincial Champions! Though four stepped on the podium, were it not for two other relay members, then these four would not have stepped on the podium.
Duncan McLaughlin '20
strapped on his spikes at the District Championships because one of his teammates was injured. He got us through to the Regional Meet. At that point, another injury happened and just as I was about to scratch our relay, someone mentioned that
Ryan Costello '20
could save the day if he could get to the track fast enough. Hopefully, he didn't speed on the drive to Acadia, but
Costello
arrived in time and kept us in the race and helped to qualify us for Provincials. Without these two there would not have been relay GOLD.
Duncan McLauglin '20
is a thrower of discus and baseballs and the 2018 NSSAF Champion and Intermediate boys' discus record holder. We expected him to throw his best and earn a gold medal in his first year at the senior level. He did throw his best today - several times! But it was a day when someone else had a throw of their dreams, and after we have done our very best, all we can do is what
Duncan
did with class - applaud, shake their hand and tell them congratulations. A SILVER medal and a new personal best always makes for a great day!
The emotional roller coaster award goes to
Aria MacDonald '21
for the ups and downs that she experienced. A dark cloud was hanging around Aria after her intermediate girls 800m race (8th place, great for team points) and doubts began to swirl about her upcoming 3000m run. Ever the optimist and racer,
Aria's
spirits soon lifted and away on the 3000m she went. Sitting back in 11th place after the first lap, Aria climbed her way to within sight of the podium, picking off runner after runner and earning just one away from the podium in 4th. Not only was this a personal best, it was also her most strategic and smartly run race; everything that was within her control she mastered perfectly.
Allie Martin '21, competing in the intermediate girls division had three puts of the shot to make it to the final round of throwing to compete for medals and points among the top 8. After a solid heave of 8.84 meters, her shot fell short by just 5 centimeters. With the right mix of keen and determination, I have no doubt that Allie will be competing for medals next year.


As a full IB diploma student,
Antonia Ziegler '19
was unsure that she would be able to commit to the team as much this year as she had in her previous two seasons. However, giving her best is all she knows how to do. In the senior girls' 3000m race,
Antonia
stormed out to a strong start and fought hard for a 9th place finish.
Each year someone joins the team in their graduating term and I think that both of us end up wishing that we could rewind history and have them here for longer - that would be
Jacob Hunt '19
. In his first year of track and field,
Jacob
earned his ticket to Provincials in the senior boys division of high jump - just one spot off earning team points in 9th position. That's a respectable result by any measure.
As for banners, well, that's changed a lot this year. The short story is that our senior boys and girls performed very well as they earned a fourth place showing among 45 scoring schools (not all schools score points). In first place was CEC (1400 students), 2nd place Park View (2000 students), 3rd place Auburn Drive (904 students) - of which we were just 4 points behind (350 students).


As I've said before and I'll say again: All this success does not come from one person, but rather as a bunch of people working as one team: Thank You to our coaching staff,
Ms. Sue Bouwman
(Sprints, Relays, Money, Team Braid Approval),
Mr. Jeff Smith
(Throws),
Mr. Brodi Robinson
(Distance, Food),
Mr. Derek Bouwman
(High Jump),
Mr. Brian Casey
(High Jump),
Mr. Mark Walker
(Sprints),
Mr. Marc Ffrench
(Relays), and a special thank you to our
Master Head Coach Mr. Guy Payne in his 52nd year with KES athletics
, guiding our program. And thank you to
Ms. Jennie Weisner
, our athletic trainer, and
Ms. Sue Cole
, our nurse. Also a very special thank you to
Mr. Kim Walsh, Ms. Kim Shanks
and our
Headmaster, Mr. Joe Seagram
for all the support they give us daily.