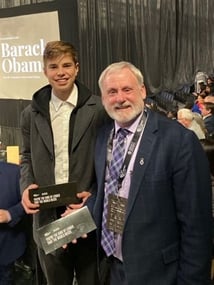 Grade 10 student,
Will Ahern
recently was chosen to attend the Public Conversation by former US President,
Barack Obama
, at the Scotiabank Centre in Halifax. Will entered a video contest held by King's-South MLA,
Mr. Keith Irving
. Mr. Irving challenged youth in his riding to express, in a video, Why Politics Matters? The winner would attend the event with Mr. Irving.
It was no surprise that Will was chosen as he loves debating, is an excellent student and hopes one day to study Law. Will certainly has the potential to be the kind of leader the world needs. Thank you to Mr. Irving for this wonderful opportunity.
Since 1788, King's-Edgehill has upheld a tradition of excellence and achievement. We are a home away from home for some of our students, and an extended family for all of our students. Plan your visit and find out what makes King's-Edgehill the best school for your child.