Brad Andrews arrived at King's-Edgehill School in the fall of 1998 as a Grade 11 student. He immediately established himself as a skilled hockey athlete and a rugged rugby player. He was no slouch in the classroom either. Brad earned consistent Honours in his two years at KES and was a perfect on Upper Inglis during his Grade 12 year. But when I think of Brad's time at KES, I will always hearken back to the gritty performances he put in as one of the top defensive players in high school hockey in Nova Scotia.
Brad was a Metro League All Star and Assistant Captain of the KES Provincial Division One Championship Team as well as a two-time winner of the KES Jacques Allard Memorial Award bestowed for leadership, determination and outstanding contribution to the team. Upon graduation, Brad attended Saint Mary's University where he completed a Commerce degree with a major in Management.
Brad also continued to pursue his great passion for hockey and joined his former high school coach, Chris Strickey, in coaching the KES Senior Boys' Varsity Hockey Team. Brad coached the KES Hockey Team defensive lines for the 2002-03, 2003-04, and 2004-05 seasons capturing provincial titles in 2003 and 2004. Brad also worked at a number of AHL All-Star Games and Hockey Canada events, including the 2003 World Junior Championships and the 2004 Women's World Hockey Championships. After graduating from St. Mary's University in May 2005, Brad landed in Montreal where he helped coach the Dollard des Ormeaux Midget and Junior AA Hockey teams and worked for Reebok-CCM as the Assistant Brand Manager for the Reebok Hockey brand. In his role at Reebok-CCM, Brad assisted with the development and execution of all Reebok Hockey brand communications (TV, Print, Web, PR, etc.).
Brad was also responsible for attending to key Pro Athlete Endorsee (Sidney Crosby, Pavel Datsyuk, Dion Phaneuf, etc.) needs at TV shoots, photo shoots, and autograph signings and was the primary contact for League partnership agreements with the AHL and the ECHL. In 2008, Brad decided to change gears and headed back to university. He applied and gained acceptance to the Western New England University's School of Law in Springfield, Massachusetts. Brad graduated near the top of his class receiving awards in both Media Law and Entertainment Law for the highest grade in these courses.
While attending law school, Brad undertook legal internships with Comcast Spectacor (Philadelphia Flyers) and the Washington Capitals, where he assisted with a pair of salary arbitrations. Brad Pursuing a Dream: Brad Andrews by Heather Strickey, Advancement Director clerked at the Law Offices of Doherty, Wallace, Pillsbury & Murphy and was called to the Massachusetts Bar in November of 2011. In September of 2011, Brad was hired by the St. John's IceCaps as their Director of Hockey Operations. He was the primary contact from the IceCaps for the Winnipeg Jets for player movement and immigration as well as the lead contact to the AHL Hockey Operations Department for the submission of contracts, player movement, roster submission, stat changes, scheduling, and supplementary discipline requests. He handled all team logistics and managed one of the largest team hockey operations budgets in the AHL.
Brad was also responsible for the club's interpretation and adherence of the AHL's Collective Bargaining Agreement (CBA) and presently sits on the League's five person CBA Committee, who provides guidance and feedback to the League during CBA negotiation sessions with the Players Association. Brad was also heavily involved in the IceCaps community initiatives as he not only recruited player and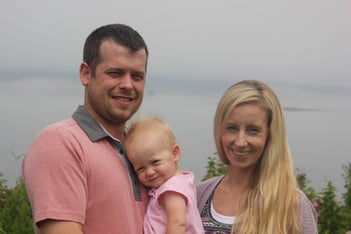 staff participation but also provided on-site support for all appearances.
This summer, Brad relocated to Winnipeg, accepting the position of Director of Hockey Operations with the Manitoba Moose, the new AHL affiliate of the Winnipeg Jets. Although his employer and geographic location has changed, his role in Manitoba will be very similar to the one he occupied for 4 seasons in St. John's as he continues to work closely with Jets prospects and management. I have presented Brad almost as this machine of hockey, volunteerism, and academics. Yet, there is so much more to this industrious young man. He is a dedicated family man who loves to spend time at the Andrews' family cottage in Digby, Nova Scotia. Brad has recently added two members to his family. Brad married Melanie Fitzpatrick (1998-00) in July of 2013. Mel and Brad met at KES when they both started as Grade 11 students.
Just a mere 18 months ago, Brad and Melanie welcomed their first child, a daughter named Heidi Andrews, to their family. I suspect that Winnipeg will probably not be the terminus of Brad's hockey career. I will be watching with interest to see how Brad's career develops over the years. Although Brad is only 33 years old, he has already been nominated twice for the "5 to Watch" Under 40 for Canada's Sports Business Awards. I am not surprised as whatever Brad undertakes, he will do it with determination, confidence and integrity.