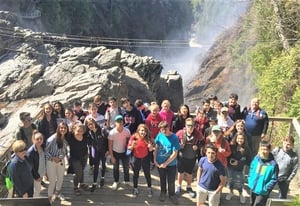 Thirty-four Grade 8 students took learning on the road in May with a five-day trip to Quebec City, and the annual voyage was a tremendous success. Chaperoned by three Junior School teachers (and veteran travelers) – Monsieur Rochon, Madame Belliveau and Monsieur Hollett – the students took part in a wide variety of activities that were chosen to give them the opportunity to explore and enjoy the culture and history of this amazing city and the surrounding region.
A walking tour of Old Québec, a traditional dinner and dancing at an authentic sugar shack, Sainte-Anne-de-Beaupré Basilica, suspension bridges, the Plains of Abraham Battlefields Park, a climbing gym, the Museum of Civilization, a disco cruise on the St. Lawrence River and a visit to the aquarium were just some of the highlights of their trip; further details and pictures can be found on our trip blog. The shared memories and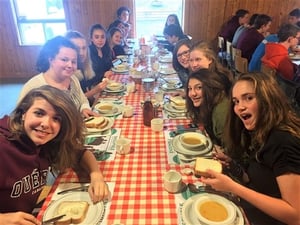 experiences will be cherished for years to come!
Learning doesn't stop when we leave the classroom. Download the "Oh, The Places You'll Go!" PhotoJournal to discover the many places your child will go as a KES student!