Finding the right private school for your child can be a colossal undertaking. You are certainly going to have many questions during this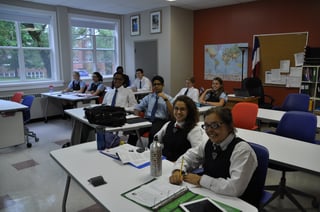 process and may not be sure where to find the answers. King's-Edgehill School is here to help you stay on the right track to making the best educational decision for you and your child. There are many considerations to take into account when starting your search for a private school that is just the right fit for your child's needs, some more obvious than others.
The most important thing is to start early in the researching process. Beginning at least a year ahead of the anticipated enrolment date is certainly considered acceptable. Sit down as a family and discuss what you are specifically looking for in a private school and why those things matter to you. Make a list of your absolute must-haves as well as a wish-list of things you'd like to see in a school but aren't absolute deal breakers. Keep this list with you as you attend various open houses, group and individual tours through the facilities, and private meetings with admissions counsellors. Be prepared to visit the schools you are considering, and keep in mind you are able to visit them more than once.
Once you have a short list of potential schools, take the time to go back and visit these choices again with your child. By doing so, you will have the opportunity to get a true feel for the school's environment, versatility to your child's specific academic abilities and preferred learning style, as well as how comfortable your child feels when interacting with other students and faculty to ensure that they will be inspired throughout the learning process and ultimately reach their true potential.
Here at KES, we are committed to education and information, and as a result we have compiled a list of questions that you should ask any potential private school you may be considering and we answer those questions for you so that you can be completely confident when making your final decision on private schooling for your child. Visit our website at http://info.kes.ns.ca/questions-to-ask-about-private-school for these helpful tools and as always, King's-Edgehill's friendly and informative faculty and staff are always available and invite you to bring us any and all questions you may have about your interests or concerns when looking for the right private school your child's educational needs.
Established in 1788, King's-Edghill School became Canada's first independent school and was founded based on the unwavering commitment to create a positive and welcoming environment where promising students could obtain an unparalleled education and become responsible, well-rounded leaders. More than two centuries later, KES remains a pillar in the community and continues to honor their commitment to education. We believe in not only educating the class, but the person as well. With small classes, and access to a world class education with highly certified, dedicated educators who will truly engage with you and your child, King's-Edgehill is certainly worth taking a more in-depth look at.
Choosing the right private school for your child can be tough. Find answers to popular questions about private schools in our ebook, Questions to Ask when considering private school.