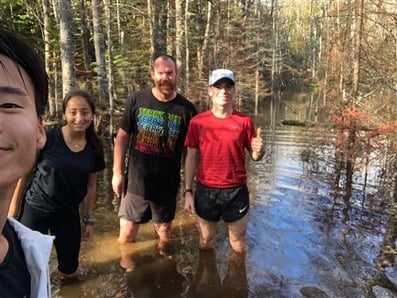 A significantly shorter course compared to our home opener (3.6 km vs 5 km), should also lead to a shorter recap.
Click here
to view the pictures.
Taking home the GOLD this weekend in the combined Intermediate and Senior Girls' race was Aria MacDonald '21. Having just returned from Holland at our home race last week, this was Aria's first race of the season - clearly setting a high bar. Francois Richard '21 carried honour for the Boys' team with a winning margin of somewhere around 20 seconds in his likewise combined division race. Placing closest to the podium was Aitana Cisneros '21 in 5th, which was two positions better than last week.
All of our runners placed significantly higher in this race than last week. The improved placing is shown in brackets. Dalia Alrashdan '20 (11), Edward He '21 (8), Eric Qian '23 (17), Alena Wood '21 (11), Jenny Zhang '23 (6), Gavin Liu '21 (initial race), Callum Lovelace '21 (initial race), Maddy Taljaard '20 (initial race)
The attached photo shows a few of us on our recent Sunday morning long run - our trail was a bit flooded. Much to the relief of our runners, we were not bitten by any of those native Nova Scotia poisonous water snakes (I'm not sure where they heard of that impossibility!) In the photo are Edward He '21, Francois Richard '21, Aitana Cisneros '21, snake wrangler Coach Hadley, and smartly staying dry out of frame was Jenny Zhang '23.
Our next race is this weekend as half the team travels to Belfast, Maine to compete in the
Festival of Champions
with 82 other schools and close to 2000 high school runners. Quickly on the heels of this race will be our October 8 competition at NKEC.
Athletics is one of the four pillars of a King's-Edgehill education and why we offer three seasons of various sports and athletic programmes. Download our Athletics PhotoJournal to discover which of the over 20 different options your child will love.