Remembrance Day is a sacred tradition in the 254, and 2019 was no exception. The drills were rehearsed, the wreath bearers appointed and the poppies ordered. All that remained was the call from the Royal Canadian Legion to set the location for either inside or outside at the Cenotaph in Windsor. The day dawned and the weather warmed up. The relief was evident on the faces of our Cadets. This year for the first time in a long while, all members of the Corps who paraded in Windsor were dressed in Highland Uniform. This has taken some time to accomplish, mainly due to a shortage of accoutrements for the full uniform. This year, thanks to the generosity of
Sir Graham and Lady Ann (Creighton) Day (Class of 1955)
and King's-Edgehill School, the necessary items were purchased. The Corps was ready to go.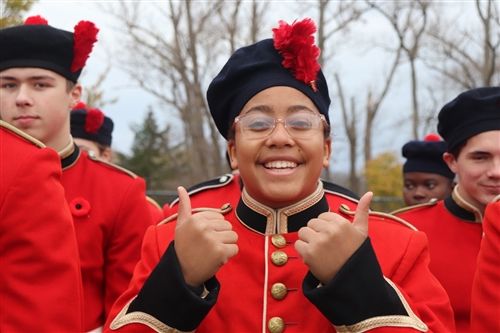 Four Cadet Companies and the Colour Party, preceded by the Cadet Brass and Reed Band and our Pipes and Drumline, a sea of Highland Red and Green, marched through the streets of Windsor. Truly, they were magnificent
. The Regimental Sergeant Major, Chief Warrant Officer Max Cole (Class of 2020)
was on point during the entire ceremony, delivering crisp and clear words of command. The Corps reacted well, performed exemplary drill, and displayed remarkable steadiness on parade. Our Cadet Brass and Reed Band were spot on in the delivery of
O Canada
and
The Royal Anthem
.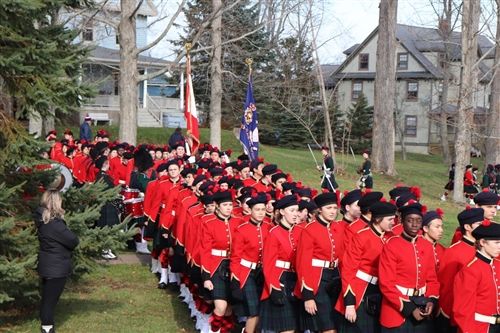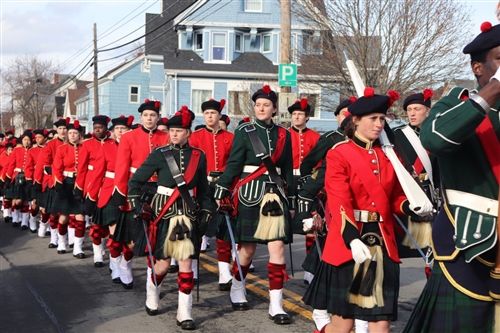 Our Drum Major, Master Warrant Officer Ella Brown (Class of 2020)
provided us with
Last Post and Reveille
.
Pipe Major, Master Warrant Officer Kelly Bouwman (Class of 2020)
and
Mr. Pat LePoidevin
, our Bagpipe Instructor, played the haunting
Lament
. Our Cadet Choir, under the tutelage of the
Choirmaster, Master Warrant Officer Laura Gillis (Class of 2020)
gave a great rendition of
Keep the Home Fires Burning
and a Newfoundland tune,
I Will Sing You Home
.
Sergeants Will Ahern and Justin Day
laid the wreath on behalf of the Corps.
Sergeant Greg Otto
was accompanied by his Father, 12 Wing Shearwater
Honorary Colonel Phil Otto
in laying the wreath on behalf of King's-Edgehill School.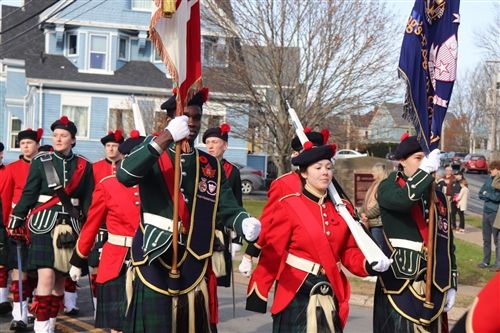 Following the ceremony in Windsor, the 254 marched back to our Campus and paraded at the School Cenotaph.
Headmaster Mr. Joe Seagram
read the Honour Roll and paid a special tribute to all of our fine men and women in uniform in all of our services who safeguard our nations.
Lance Corporals Nikki Kolla
and
Cooper Pape
laid the wreath at the School Cenotaph.
Reverend David Curry
, our Corps Chaplain, followed with a solemn benediction, marking this most revered day. The Corps laid poppies and the Colours were marched off parade. Another Remembrance Day passed into the annals of this fabled Corps. What a great day to be a Cadet in the 254.
We uphold a long-standing, Canadian tradition that teaches discipline, leadership and service, but it is anything but stuffy. As part of the Cadet Corp, our Students zip-line, swim, dress-and-drill, and take part in important community ceremonies. Download our Cadet Corps PhotoJournal for pictures and more.