As Grade 12 students consider and select their university of choice, they are embarking on one of the biggest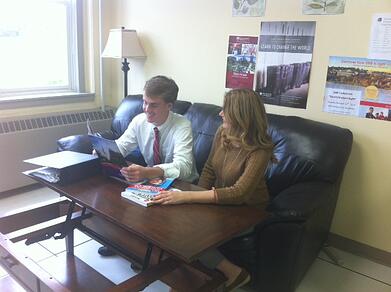 decisions of their lives. We are proud of that fact that 100% of our graduates will earn university acceptance so we take our responsibility to help students select and apply for the right universities throughout the year very seriously, and offer a prep group program.
"Prep groups" are mandatory for Grade 12 students, and they begin the second week of the school year and continue until the end of the term. Prep groups consist of about 12 students, and it is an opportunity for students to learn about and discuss various topics such as:
types and levels of degree programmes
application processes
scholarships—how to find them and how to apply for them
advantages and disadvantages of small and large universities
how to find a university that is a good fit for you
reasons which cause first year students to interrupt or leave their studies
prerequisite requirements for admission to all programmes including professional and graduate schools
career possibilities arising from various areas of study
what to expect in first year university (both academically and socially)
how to maximize chances for success at the post-secondary level - study habits, time management
Throughout the year we will also host many university visits, which allow students to listen to various university presentations and ask questions directly to university staff.
We also offer our Grade 12 students a university tour. In late September this year 24 King's-Edgehill School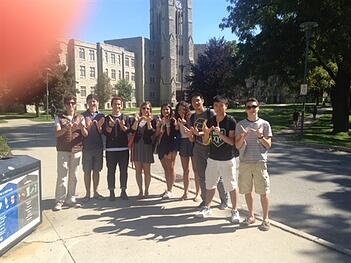 students and 4 school staff embarked on an exploration of Quebec and Ontario universities. (Read details here). Over the course of 4 days we toured a total of 10 campuses, including: McGill, Concordia, Queen's University, University of Ottawa, Algonquin College and Carleton University, Western University, McMaster and Waterloo, University of Toronto and we also attended the Student Life Expo which hosted over 200 schools and universities.
As we toured the campuses we not only benefited from university lead presentations but at each university we met with KES alumni who were able to share their experience at their university of choice. These alumni connections provided an inside look at each school, offering perspective from students who truly understand our current students' background.
While we know selecting a university remains a daunting project for our Grade 12s, a trip like the one this group completed certainly provides the students with lots more information to make a well-informed decision.
If you think King's-Edgehill School may be a fit for your child we'd welcome you to take the next step and visit us. We'll connect your child with a current student so they can experience KES together, while you speak with our Admissions Team. Contact us to plan your visit here.