Many schools have transitioned to offering semester-based courses. In these classes, a full academic year's worth of material is covered in a single semester. Typically in a semester-based setting, students take fewer classes at a time while spending more hours in each class per day than they would in a traditional yearlong course setting. Supporters of semester-based courses believe that this system helps prepare students for university, as the structure mimics the longer courses typically offered there.
At King's-Edgehill School, we continue to offer yearlong courses because we believe that our students benefit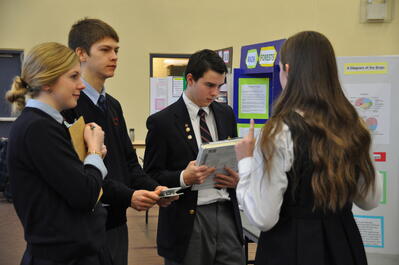 from this structure. Here is a look at a few of the advantages that the yearlong approach provides:
No Long Gaps
Because of the structure of a semester-based approach, students may experience long gaps without covering a specific topic or subject. While this may not be a problem for self-contained courses, such as English or History, these long gaps can pose significant problems for sequential courses where concepts are continually built upon, such as Foreign Languages and Math. A student who takes French in the first semester of grade 10, but is not able to take French again until the second semester of grade 11 will likely have forgotten most of what they learned previously and struggle in the course.
Shorter Class Length
Studies have shown that the average attention span in a healthy teenager ranges anywhere from 10 to 40 minutes. Although humans are capable of refocusing their attention so they can continue working on a specific task, the effectiveness of these attempts depends on many factors, such as the person's interest in what they are focusing on, fatigue, hunger, distractions, stress level, and more.
In order to have sufficient time to cover all of the necessary material, semester-based courses are significantly longer than their yearlong counterparts. Focusing on one subject for such a long time at once can be challenging for many students. The effects of this are only magnified in subjects where a student is struggling to grasp the material. We have found that faculty and students alike appreciate and welcome the shorter class periods that yearlong courses offer.
Better Retention of Material
When learning something new, the time spent away from the new material is typically just as important as the time spent actively studying and practicing. The brain is a complex machine that is always running. This means that even when a student is taking a break from studying, their mind is subconsciously processing the information they have taken in and working to solve the problems they encountered.
The quick pace of semester-based courses reduces the student's opportunity to process what they are learning. Yearlong courses give the student a longer period to absorb the information, improving both immediate and long-term understanding and retention of the material.
Earlier Acceptance Into Universities
One of the most important milestones of grade 12 is the process of applying to and being accepted into universities. Our grade 12 students will have their first term grade 12 marks by November. Students participating in a semester-based program will not have any marks for grade 12 until February. Because these grade 12 marks play an important role in an enrollment officer's decision, students in yearlong courses can apply and be accepted into university earlier than students in semester courses. This gives students at KES and other schools with yearlong programs an advantage when applying to top-notch, competitive universities.
King's-Edgehill School is always concerned about providing the highest quality education to our students. Because of these many advantages, KES has chosen to continue using the yearlong course structure.
There are so many chances for King's-Edgehill School families to join our events and celebrations. If you haven't joined the family yet, visit us in person so we can show you all the wonderful things happening at our school.