King's-Edgehill School presents at least two musicals throughout each school year. Previous productions have included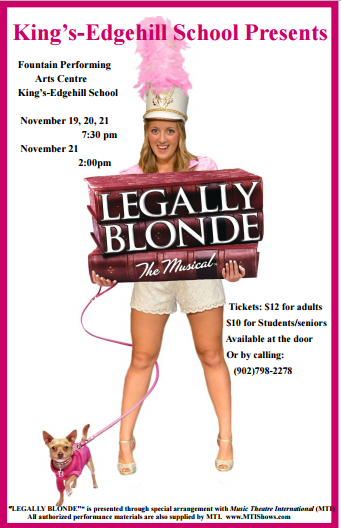 Fiddler on the Roof, High School Musical, Jesus Christ Superstar, Shrek, Beauty and the Beast, RENT, and The Sound of Music. This year, the students and staff at KES are excited to present Legally Blonde.
Legally Blonde will star KES's senior class and feature set design by The Junior School art classes club, advancing KES's mission to support all classes in art enrichment. Creative endeavours in dance, music, art, and acting are an important pillar of KES's curriculum. We believe theater arts should be advocated in education, and our musicals are a brilliant chance to showcase our student body's vast artistic talents. Junior students perform their own musical during the spring with assistance in production from the IB Drama class.
Our impressive theater, The Fountain Centre for the Performing Arts, will play host to Legally Blonde. The theater seats 400 people, and is equipped with top of the line audio and lighting technology, designed to feature our thespians in a most professional manner. Stage choreography and musical scores are performed by our teachers and students, creating a truly original production.
Legally Blonde will be directed by KES alumnus Toven MacLean. MacLean has directed over 50 musical productions in schools, community theaters, and summer camps, and is a member of the board of directors of Quick As A Wink Theater. She also teaches drama in The Junior School. Her passion for the stage and keen skills as a director are sure to lead the cast to a rousing production.
Legally Blonde will be adapted from the Broadway production of the same name, which itself was inspired by a 2001 film starring Reese Witherspoon as Elle Woods, a bubbly sorority girl who in enrols in Harvard to win back an ex-boyfriend. Both the film and stage production were critical and commercial successes. We are certain our adaptation will also delight audiences, both young and old. Mark your calendar for The King's-Edgehill School's production of Legally Blonde November 19th , 20th, and 21st.