Our students began their snow sports program in mid-November. For our students involved in snow sports, the season kicked off with dry-land training. As students return to campus after Christmas break, there is a bright side to these colder temperatures in the form of a daily trip to Ski Martock.
King's-Edgehill School students are lucky to attend the only CAIS boarding school in Canada that offers snow
sports as a daily sport option in the winter term. Situated just minutes away Ski Martock, our students are anxious to trade in dry-land training for actual ski and snowboard training. Students of all skill levels are able to choose from recreational or competitive teams for: biathlon, snowboarding and skiing. Our students are bussed from the school to the hill every afternoon (it's less than 10 km away). With onsite storage for gear right at the hill, we maximize our time for skiing and snowboarding.
Last year our KES Alpine Ski Racing team had a very successful season! After two months of tough dry-land training and two more months of on-snow training, the Alpine Ski team held three regional races at Ski Martock, winning five of the six Regional Banner competitions.
Our Snowboarder Cross team also had an exciting and triumphant season last year. They trained diligently in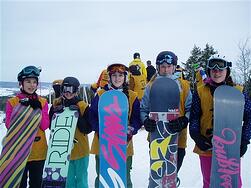 the terrain park, on the practice start gate daily, and they were very fortunate to have riding sessions with former Olympian Sarah Conrad and Canada Games Silver Medalist Jeremy Page. Training paid off when the Senior Girls and Intermediate Boys teams both won Regional Banners.
Ski Martock also boasts over 12 km of groomed trails on natural and made snow for both skate and classic cross-country skiing. This is where you'll find our team of biathletes throughout the winter months.
Biathlon comprises two sports: shooting and skiing. Skate skiing differs from classic cross-country in that it is all about the centre of gravity for balance and glide and transfer of weight. Our King's-Edgehill biathletes participate in cadet biathlon races; last year, members of the King's-Edgehill Cadet team participated in provincial and national championships.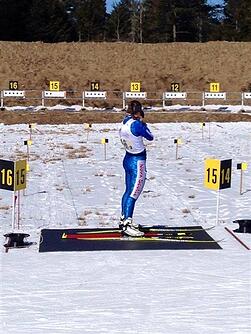 While we are incredibly proud of all our athletes who find their passion in one of the winter sports we offer at the ski hill, we're also very excited to introduce young people to skiing and snowboarding for the first time.
Students who do not select a ski or snowboarding sport still have the opportunity to ski as a weekend activity or to participate in our school-wide ski day. It's a great way to get out and enjoy winter, at any skill level.
Interested in learning more about a typical day of King's-Edgehill School? Download a copy of our photojournals.