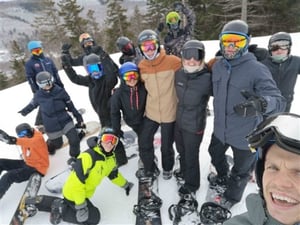 On Friday, February 15th, our Varsity Snowboard racers took a day trip to Ski Wentworth to train on the Snowboard Cross (SBX) course built by the resort. We trained alongside our coaches,
Mr. Ryan Alguire
, and Snowboard, Nova Scotia Speed Specialist,
Kimberly Sutherland
. We departed the School early Friday morning and embarked on a two-hour bus ride to Nova Scotia's other well-known ski hill. After arriving, we got ready by doing a warm up as a team before heading to the top. The first run was taken slow as an inspection lap, so that the snowboarders were aware of the features on the SBX course. The next run was focused on pulling out of the start gate with power and efficiency. After spending some time training on the SBX course, we hit the terrain park near the bottom of the hill that allowed us to work on alignment, confidence and control. We had a number of opportunities throughout the day to work on making small carves in the snow and using the edges for maximum speed and control. After taking a short lunch break in the lodge, we went back to the SBX course and raced our peers, putting all our skills into practice. The focus of the training was to get practice on the SBX course before the upcoming competitions on February 25
th
and February 28
th
at Ski Martock. The training and experience of the day also helped new riders get familiar with a racing mentality and environment, while bringing our team together in spirit and support.
Kyra Jarvis (Grade 12) and Will Fleming (Grade 11)KES Varsity Snowboarders


Nearly half of our students are day students, travelling from all over the Annapolis Valley and Halifax areas, and King's-Edgehill provides transportation to most of them - get in touch and find out your child's transportation options.