While all the seasons at King's-Edgehill School offer something spectacular and exciting for our students to embrace, it's undoubtedly when winter settles in that our students love to venture outdoors to play or compete on the snow-covered hills. Three winter competitive and recreational sports, in particular, keep our students active every day. These students are elated to discover more snow has fallen over night to enjoy!
Daily Snowboarding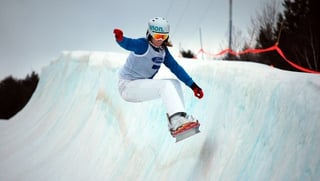 Inspired by a cool combination of skiing, skateboarding, sledding, and surfing, our KES snowboarders love the art and science of this 1960s sport that became so popular and highly-regarded that it found its way into the Winter Olympics in 1998. Since KES is just literally minutes from Ski Martock ~ Nova Scotia's famous family owned and operated "go to" destination where students, families, and tourists flock to ski, snowboard, and Nordic ski, our students are conveniently and easily bussed from our campus to the hills of Ski Martock every afternoon during the winter season! This enables our seriously-competitive snowboarders to hone their skills and master their craft, while allowing our recreational snowboarders the opportunities to have loads of laughter-filled fun trying out new freestyle twists, turns, and tricks. What makes snowboarding every day even more fun is the fact that Ski Martock provides an onsite storage for our students' gear right at the hill ~ thus minimizing any downtime the students might experience from having to find, prepare, and lug their snowboarding gear to the mountain every afternoon! Last season our Snowboarder Cross team not only trained diligently in the terrain park and on the practice start gate daily, but also had the opportunity to get snowboarding sessions with former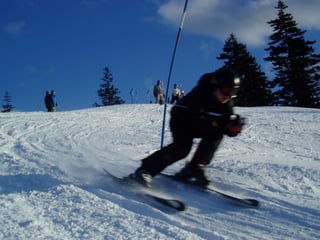 Olympian Sarah Conrad and Canada Games Silver Medalist Jeremy Page! All that hard work (and fun) was rewarded when the KES Senior Girls and Intermediate Boys teams both won Regional Banners!
Daily Alpine Ski Race Training
Our alpine skiers had a very successful season last year! After two months of rigorous training on dry land, combined with another 60 days of on-snow training, the KES Alpine Ski team won five of the six Regional Banner competitions held at Ski Martock! Since our skiers have already put in months of training for this season, this year promises to be just as exciting, fun, and rewarding for our students!
Daily Biathlon Practice
Biathlon is a popular Olympic Winter Sport that combines the accuracy of shooting with the finesse of skiing. Ski Martock offers our student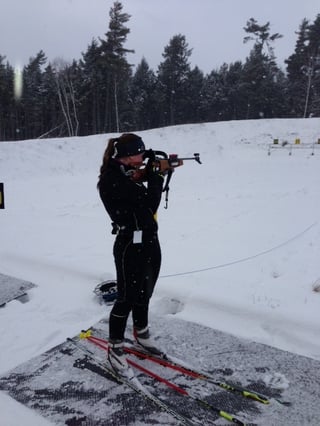 winter athletes who have an affinity for this sport over 12 km of groomed trails on natural and man-made snow for both skate and classic cross-country skiing. This is where you'll find our team of biathletes throughout the winter months. Demonstrating their prowess in both skate skiing and small-bore rifle marksmanship, our KES biathletes participate in cadet biathlon races each winter. In fact, last year, members of the KES Cadet team qualified to participate in both provincial and national championships!
In addition to daily snowboarding, alpine skiing, and biathlon activities, KES students can also participate in hockey and now recreational curling. While we are incredibly proud of all our athletes who find their passion in one of the winter sports we offer at our neighboring ski hill, we're also very excited to introduce skiing and snowboarding to many of our students who have never previously explored these activities. Students who do not select a ski or snowboarding sport still have the opportunity to ski as a weekend activity or to participate in our school-wide ski day. It's a great way to get out and enjoy winter ~ no matter what the skill level!
Athletics is one of the four pillars of a King's-Edgehill education. Sports are mandatory at every age and part of the day's schedule. With that much time devoted to physical activity, it's a good thing we have so many choices! Have a look at all the sports your child can try at KES: Download the Athletics Photojournal.