It is always exciting to chat with our new and returning students at the beginning of the year, and listen to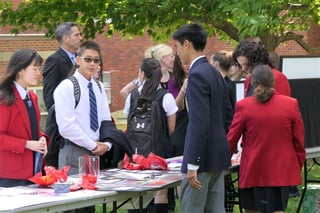 what their goals are for the year ahead! Some students want to volunteer more in the local community, be in the school musical, or become a better public speaker, and others want to get involved in evening intramurals or learn a new language.
Last Friday over lunch students gathered in the quad to hear all about what clubs and committees are offered this year at KES. Teachers and students creatively decorated tables, provided information, and encouraged students to sign up for clubs of interest.
Here are some of the clubs we have offered at KES this year:
Yearbook and Photography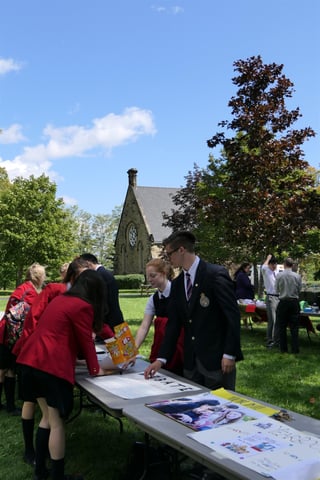 DECA Club
Robotics
Environmental Club
Gay Straight Alliance
Triple A Club (Archives, Advancement, Alumni)
International Club
Youth in Action-Dignity and Respect Society
Scrapbooking and Journaling Club
Debating
Math Club
Chinese Lessons
Choir
Theatre Group
Band
Bagpiping
Junior Community Volunteering
Judging from the turn out at the fair and the overall spirit and willingness to get involved in campus activities over the first few weeks, we are undoubtedly going to have an amazing year at King's-Edgehill. If you would like more information about how KES students can get involved in the many activities offered outside of the classroom, please
contact Monica Schafer
, Director of Student Life & Wellness..