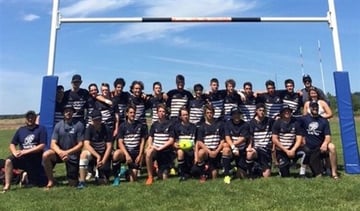 Soon after the high school rugby season ended, a number of our current stud
ents and recent graduates continued their efforts on the pitch throughout the summer as members of our Provincial rugby programme, the Nova Scotia Keltics. The 2018 most outstanding male contributor and current University of Western student,
Alex Otto (2012-18)
, led the charge on the Under-18 team. Joining Ale
x was current Senior student and Prefect,
Ben Lohr
.
The boys' contingent at Provincials was rounded out by Grade 9 student
Greg Otto
and Grade 11 student
Keegan Gilbert
who both competed on the Under-16 side.
Not to be outdone, a total of 6 girls represented KES on the Provincial teams. Recent graduates
Kenzie Cecchetto (2014-18), Morgan Rogers (2013-18)
(both currently studying at University of Ottawa), and
Heather Stanton (2016-18)
who now attends Saint Mary's University, were joined by first-year Grade 11 student
Courtney Ells
on the Under-18 provincial side. Our final two representatives, Grade 11 students
Camryn Kleynhans
and
Kristen Otto
competed for the Under-16 girls' team.
While all of our current students are busy helping their respective fall teams achieve success, they will all be leaders on and off the pitch for our rugby programmes when things get started in the early spring.
Download our Athletics PhotoJournal to find out more about the different sports offered in each school term, as well as about the team sports and individual sports, and recreational and competitive play offered at King's-Edgehill School.