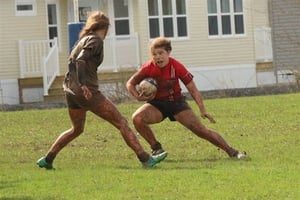 Téa Racozzi leaves KES as one of the most decorated female athletes in the last few years. While she overcame challenges that came her way during her time at KES, she is now ready to take on new experiences at Concordia University. This five-sport (soccer, cross-country, wrestling, snowboarding, and rugby) varsity athlete and our Senior Female Athlete of the Year and Senior Female Student Athlete of the Year will be joining the Concordia Stinger's Rugby program next fall! In joining the Stingers, Téa will be yet another one of our female rugby players who has earned the opportunity to play at the USport level.

Concordia's coaching staff identified Téa in her Grade 11 season due to her skill, athleticism, and work ethic. "We are very excited to have such an amazing athlete joining our rugby program here at Concordia", commented Head Coach Jocelyn Barrieau. "Téa's dedication on and off the field is already visible at such a young age. Her pride in academics is also an important part of what she brings, and we are very happy to have a person like her joining the Stingers family"

Our former Junior Female Athlete of the Year was also a Provincial champion wrestler who had a fine showing at the wrestling Nationals held this year in Fredericton. Due to her prowess on the wrestling mats as well, Téa will have the opportunity to be a dual varsity sport athlete at Concordia if she so chooses.

Despite being a three-sport Captain, she not only provided leadership in athletics, but was also an engaged Steward and Prefect throughout her time at KES providing excellent mentorship in the classroom and dorms as well. While we will miss Téa next year, our School is a better place thanks to her contributions to it, and we know she will continue to achieve success wherever she goes.
Athletics is one of the four pillars of a King's-Edgehill education and why we offer three seasons of various sports and athletic programmes. Download our Athletics PhotoJournal to discover which of the over 20 different options your child will love.