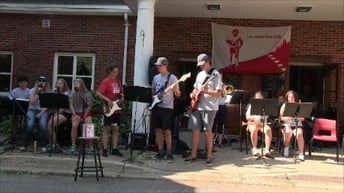 For more than 30 years,
Mrs. Taya Shields
, our Director of the Junior School, has organized the annual Terry Fox fundraising event on our campus in an effort to support the community and aid in the quest to finance cancer research. Ten years ago, she suggested to me that some entertainment would be a welcome addition at the post-run BBQ, and so it began. This year, eight different groups of performers showcased their musical talents. In addition,
Ms. Stephanie Cummings
, our new dance instructor and English teacher, had her team of dancers add to the festivities with an energetic, well-choreographed routine.
The largest group to play at our post-run BBQ was the School's Jazz Band. The members of the group who performed are:
Kathleen Balcome - vocals
Maggie Baxter - alto sax
Joanna Bond - vocals
Ella Brown - trumpet
Nicholas Cheverie - drums
Max Cole - guitar
Nicola du Toit - vocals
Kyra Jarvis - alto sax
Bryan Li - piano
Benjamin Lohr - bass
Eva Redmond - cornet
Piranavan Somasekaram - clarinet
Bella Turner-Galaise - bass
What a terrific group to work with! A clip of them playing
Don't Know Why
and
How High the Moon
can be viewed by
clicking this link
.
As you can see, Boarding Schools are not dreary places, nor are they only for the international elite. The Canadian Accredited Independent Schools (CAIS) is an association of Canada's best independent and private schools. Download the article that addresses these and other myths about boarding schools here.