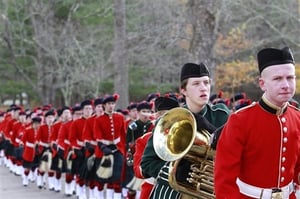 Remembrance Day dawned cold and windy on the campus at King's-Edgehill School. This year the Corps was spread out over three separate areas. We had 19 Cadets in Ottawa as part of Operation Veteran, 6 Cadets in Hantsport under command of the
Regimental Quartermaster Sergeant, Master Warrant Officer Nicholas Cheverie
and 333 were on parade in Windsor.
In typical Cadet fashion, the 254 thumbed its nose at the weather. The Corps appeared in full Highland Dress ready to best the weather and pay homage to Veterans both past and present. Precisely at 1025 hours, our
Regimental Sergeant Major, Chief Warrant Officer Sophie Fraser
gave the word of command: "CORPS – BY THE LEFT – QUICK MARCH". The cadets formed up by company, marched through the streets of Windsor, and formed the left flank of the Hants County Legion Parade. A first this year was the formation the Corps adopted at the Cenotaph, forming in Corps in Close Column of Companies. Alpha and Bravo Company commanded by
Sergeants Major Tea Racozzi
and
Rayannah
Hwang
were in the front and immediately behind them were Charlie, Delta Company commanded by
Sergeants Major Calvin Shen and Duncan McLaughlin
and the Corps Brass and Reed Band, commanded by the
Corps Drum Major, Master Warrant Officer Joanna Bond
. The Vigil Party, commanded by the
Corps Drill Sergeant Major, Master Warrant Officer Lane Latreille
stood steady.
Sergeant Jarred
Douglas, Sergeant Will Melin, Cadet Sarah Hardy
and
Cadet Aimee Cooper
never wavered in their duty of guarding the cenotaph. Amazing!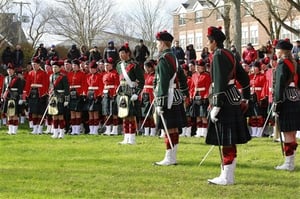 Our
Corps Bugler, Warrant Officer Ella Brown
was superb in her rendition of
Last Post and Reveille
. The
Corps Pipe Major, Master Warrant
Officer Nicola du Toit
, moved the audience and parade members with her playing of the
Lament
. This year our Brass and Reed Band, under the tutelage of
Mr Jeff Smith
, and the command of the
Corps Drum Major, Master Warrant Officer Joanna Bond
played some beautiful hymns during the wreath-laying ceremony.
Every year has a defining moment. This year a little lady named
Claire Verryn-Stuart,
accompanied by
Sergeant Taylor Cole
, laid the official wreath for the School and stole the hearts of the audience.
Claire
is the daughter of KES Teachers
Jason and Cynthia Verryn-Stuart
. At the tender age of two, she was composed and not in the least bit nervous.
Following the parade in Windsor, the Corps marched back to Campus to observe our ceremony at the School cenotaph. Our Corps formed in Hollow Square around the cenotaph and paid proper dignity and respect to those students who had paid the ultimate sacrifice in past conflicts around the world.
Gabby Shaw
and
Nicholas Woods
were the wreath bearers for the ceremony. The wind moaned as the
Headmaster
read the names of the Fallen and
Reverend David Curry, our Corps Chaplain
gave his benediction. Following the service, the Corps moved forward to lay their poppies. There were no unhappy faces because of the cold weather, just beams of pride at the day's accomplishment.
What a great day to be in the 254.