At King's-Edgehill School, we are not only proud of our current students, but we are also so proud of our vibrant Alumni who continue to carry with them the energy, passion and commitment they showed while at KES.
With a 227 year history, you can appreciate, we have a long list of highly accomplished Alumni. For instance, KES Alumni Sir Robert Barry Dickey and Sir John Hamilton Gray, who both graduated from KES in 1829, went on to became Fathers of Confederation. Sir John Hamilton Gray was also the Premier of Prince Edward Island from 1863 to 1864.
Whether we are writing of KES alumni from the 1820s or the alumni of the 1960s, we have been blessed to have alumni who are driven and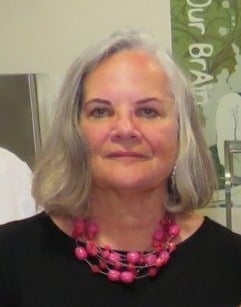 successful and who also give so much back to our School. Retired Canadian diplomat, Ruth Archibald (1964-1966) was a Canadian high commissioner in Bridgetown with responsibility for Barbados and the Eastern Caribbean. Ruth was on campus this summer for the Edgehill 125 Reunion and is also a grand supporter of our School in many ways. (Image right, Ruth Archibald, attending our recent Edgehill 125 Reunion).
David Andrews, who graduated from KES in 1966, is the President and CEO of the American Hockey League (AHL) and is annually named one of the most powerful people in hockey by The Hockey News. David has had a long hockey career which dates back to his days at KES, including playing on a team in 1966 that won the Nova Scotia High School Hockey Championship. David serves on the KES Board of Governors and his insights for our School are visionary. Graduating the same year as David Andrews (1966) is Fred Fountain. Fred became the Chancellor of Dalhousie University and is one of the leading philanthropists in Canada.
The achievements of King's-Edgehill's graduates are as diverse as the years they graduated. We are proud of all of the accomplishments of our KES Alumni and look forward to seeing what this year's graduates and future graduates will do with the knowledge and experience they gained as KES students.
Are you a King's-Edgehill almunus/alumna? Provide us with your information so we can keep you in the loop on what's happening at KES!