In life, everyone can use a little advice. At the right time and from the right source, academic advice can make a big difference to success. King's-Edgehill School (KES) focuses beyond academics to prepare your child for higher learning after high school. Students learn and study in a positive atmosphere to prepare them for higher education. And part of the preparation is teaming up with an academic advisor. The benefits of meeting regularly with a knowledgeable academic advisor are immeasurable.
The academic advisor's role is to help our students navigate day to day life at King's-Edgehill school. Older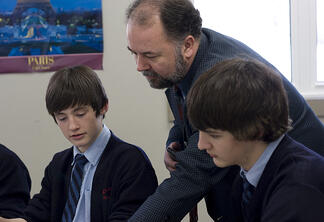 students benefit from detailed university counselling (view those details here, but my job starts much earlier.
The Process
We'll introduce your child to an advisor when they start at King's-Edgehill. That advisor and mentor stays with them until they finish junior school, at which point a dedicated senior school advisor will guide them through their final years.
We I take an active role in helping students achieve the goals they set themselves. We meet with our students twice a week or more depending on the circumstances. Students who are choosing universities to attend may meet with their advisor more frequently. With frequent and consistent meetings, we get to know each student's goals, desires for the future and best suited path for success.
We help with all kinds of things: managing work load, organization, study skills, time management, selecting co-curricular programs and generally, how to get the most out of this wonderful place.
Benefits
We've found proven success with our commitment and dedicated meeting process. We're very proud of our school's 100% success rate of students heading off to a university or college. And we've found that often, we end up helping parents as well.
An academic advisor can be the point of contact should you want to check in on your child's progress at any point. Parents are encouraged to contact the assigned academic advisor with any questions or concerns about academic progress.
You can also turn to the advisor as a point of contact for factors that may be affecting your child's academic performance. The factors may be personal – every advisor maintains a strict code of privacy. We use a number of resource tools at our disposal to help students who need extra attention during times of personal dilemmas or concerns.
Advisors review all assigned students' report cards. By reviewing reports cards, we'll identify strengths and weaknesses, and help your child strategize to improve academic performance and track goals for maintaining success.
The main goal of our school is student success, and it takes a whole team of people to support, encourage and realize that success. We've proven time and again that having an academic advisor as a member of the success team is valuable, welcome and effective.
Ready to learn more about the academic approach at King's-Edgehill? Why not view our video on the academics at King's-Edgehill.