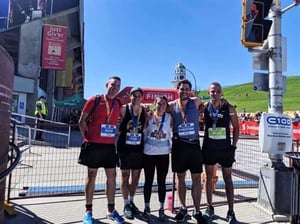 Traditionally, the Bluenose Marathon (Nova Scotia's race weekend) is held over the long weekend in May, but this year it was held over the June 8th-9th weekend. Rumour has it that it was the nicest weather for the races in many years, and it was well represented by our King's-Edgehill community.
The Lifemark 5km race kicked off the weekend, and it was a fast course around the Halifax downtown core. Impressive results were achieved by
Mr. Brodi Robinson
(18:35) and
David McCurdy '19
(21:12) who finished 12th and 53rd out of a large field of over 2000 runners.
The Sunday races packed the schedule showcasing both the full and half marathon as well as the 15km and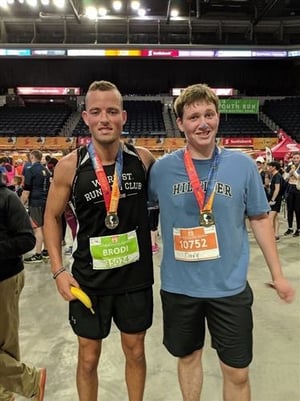 10km races. The first race of the day featured
Mr. Christian Lakes, Mr. David Foley and Mr. Alguire racing
the half marathon. The Bluenose Half Marathon is an unforgiving race that starts through the North End and loops along the harbour to Point Pleasant and back to Citadel Hill. While we were both coy about the race and it not being a competition,
Mr. David Foley and Mr. Ryan Alguire
pushed each other and finished a mere 3 seconds apart and under their target for PB's of 1:39:42 (Mr. Foley) and 1:39:45 (Mr. Alguire). That was good enough for 67th and 69th out of a field of over 1100 runners. First time Half Marathoner,
Mr. Christian Lakes
, finished in a respectable 2:02:16.
Next on the tab was the 15km race represented by KES's only female contestant,
Ms. Kiaya Bell
. Kiaya pushed herself through the course on her own and finished with a strong showing at 1:30:55.
The last race of the day was the 10km road race.
Mr. Robinson
competed in his 2
nd
race in as many days clocking in at 39:00 which was good for 7th place out of 1700 runners.
It was a great weekend with many positive results. The runners will look to build off this experience and set their sights on races in the near future.