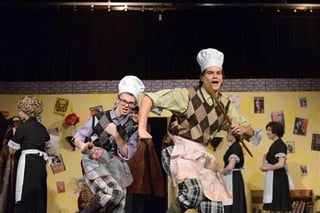 Quick As A Wink Theatre Society's latest musical,
The Drowsy Chaperone
, featured local actors and musicians, including an impressive representation from the King'-Edgehill School community.
The Drowsy Chaperone
is a Canadian musical which premiered in Toronto, and then went on to a Broadway production in 2005 which earned it 13 Tony award nominations and 5 wins. Featured actors in this production included
David Foley (staff), Kerri B. (2008-11; head girl), Max Cole (Grade 10), Laura Gillis (Grade 10), Joanna Bond (Grade 11),
and
Isaac McWhinnie (former student)
. The production also featured the talents of
Karen Jones (staff)
who designed the set and did the set painting. Thanks to staff member
Manny Avila
for the photos!