King's-Edgehill School is dedicated to developing well-educated, mature, responsible young adults. Since 1788, we've helped our students become outstanding university students and very productive citizens of Canada and more than dozens other nations. For this, we give credit to our four pillars of education: leadership, academics, athletics, and the arts.
Student Leadership
Our students develop into leaders ready to help their local communities or to participate in the betterment of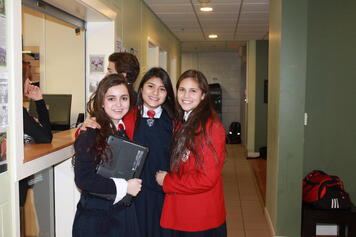 the international community. We guide them to use their knowledge to lead throughout their lives, to make better citizens of their nations and the world. At KES, your child will learn this starting with the interactions they have with fellow students, practicing mutual respect and appreciation. They will further it outside of the school with community service. We encourage and facilitate many opportunities for volunteering at the school and in the local community. Students see the immediate results of their efforts and learn to appreciate the positive impact they make with their time and effort.
Academics
We teach your child how to learn from teachers, fellow students, and to explore ideas on their own. We like to say "teach the student, not a class" because we recognize everybody is unique in how they learn. Our teachers are dedicated professionals who are encouraged to develop their own curriculum. They are rigorous and fair in their teaching methods and challenge the students to think about and understand the subjects they study. We believe academics should extend beyond knowing facts, to include the skills of inquisitiveness and discernment.
Learn more about the academics at King's-Edgehill here.

Athletics
We know that not everything can be learned in a classroom. Many lifelong skills are picked up on the fields, courts, trails and hills of campus. Athletics teaches teamwork, promotes a lifetime of physical fitness, develops self-discipline, builds camaraderie with fellow students, and is a great way to have fun. We offer sports programmes most afternoons and your child will be able to choose from a wide variety of activities. Our sports range from the traditional team sports of soccer, basketball, hockey, rugby, and volleyball to sports that personally challenge the athlete like wrestling, swimming and cross-country running. Students also have the opportunity to participate in sports like Tae Kwon Do, snowboarding, and Biathlon. At KES, we keep students' bodies as fit as their minds.
Learn more about the athletics at King's-Edgehill here.

Arts
The Arts are an essential part of student life at KES. Arts expose our students to varied cultures, to history, and connect them to the world at large. Your child will participate in classes we offer through our curriculum: drama, music and visual arts. Or they can participate in our varied co-curricular activities: a number of school bands, choruses, plays and musicals - even our bagpiping program! We want your child to be as comfortable in an art gallery and symphony hall as they would be discussing academic themes or playing a sport on the field.
Learn more about the Arts at King's-Edgehill here.

At King's-Edgehill, we're very proud of our heritage, our alumni, and our current student body. We turn out well-educated leaders who are ready to confidently move on into further academic pursuits or to any other endeavour they decide to pursue. With a King's-Edgehill education, your child will be able to stand firm on the bedrock of experience and knowledge that our four pillars produce.
You can learn more about each of the pillars of a King's-Edgehill education by watching our videos. We have a video dedicated to each pillar.