Some students see summer as a time for leisure and look forward to closing their school books for a couple of months of sun and fun, but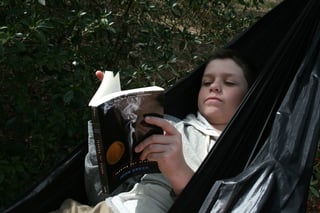 summer reading is important if you are looking to avoid the learning erosion that oftentimes occurs over the summer break. Reading is especially important for students who struggle with finding the joy in escaping with a good book.
We're not saying that students should re-read text books throughout the summer, but that they should instead take the time to read books they may not otherwise have the time to enjoy during the school year. It's also a great chance to explore literary classics! Sometimes removing the necessity of reading and making it an activity of leisure is all it takes to turn a reluctant reader into a bookworm.
Our Junior School teaching staff of King's-Edgehill has complied a grade-appropriate reading list that students can use as a guide when looking for their next great read this summer! The books were chosen because of their timeless ability to entertain the minds of young readers, while some may be by authors familiar to the students.
For Grade 7 students KES recommends Little Women by Louisa Alcott for a dramatic novel or The Chronicles of Narnia series by C.S. Lewis as an introduction into fantasy novels. We also encourage students to read some of the children's literature novels they may have lightly explored in their elementary years, such as Charlotte's Web by E.B. White or Anne of Green Gables by L.M. Montgomery. Re-reading a book outside of a classroom setting can sometimes ignite a new respect for a book they may have otherwise found boring.
In Grade 8 and Grade 9 KES recommends students delve into longer or more involved novels, such as Fahrenheit 451 by Ray Bradbury or The Last of the Mohicans by James Fenimore Cooper. These novels introduce readers to more complex story lines often with underlying messages about world issues.
Reading during the summer months keeps the mind active and keen to learning and exploring new things. Students who don't read over the summer can experience summer learning loss and some will return to school feeling like they've actually forgotten what they learned the previous year.
If your child is a reluctant reader, set an example by also reading this summer. Make a bucket list of books you would like to read, and don't hesitate to add some classics to that list as well! For a complete list of books recommended for summer reading by King's-Edgehill School, click here. Happy Reading!
Interested to learn more about what our students are up to this summer? Why not connect with a KES parents to get their prespective on the full King's-Edgehill School experience.